Chapter 5
Choosing the Right Corrugated Metal Roofing Panel
If you like making decisions, then you're going to love this chapter!
Choosing a metal roof involves making a lot of choices, more than just whether or not you're going to use corrugated metal roofing panels. By the end of this chapter, you'll have everything you need to know to pick out the right panel for your new roof.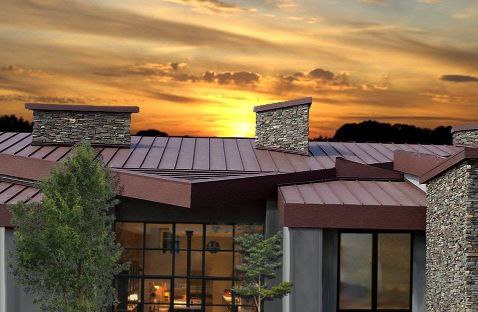 To help keep you from feeling overwhelmed, we've broken up each decision into sections:
Paint System
Colors Of Corrugated Metal Roofing
Underlayment
Gauge

Paint System: PVDF Or SMP?
The paint system is probably a factor you haven't really considered. As long as the roof is the color you want, what difference does the paint system make?
We understand why this factor can be overlooked, but the truth is the paint system plays a part in the performance and appearance of your roof. You want to make sure you choose a color in the paint system that will leave you satisfied with your roof for years to come.
The two main paint systems you'll find are PVDF and Silicone Modified Polyester aka SMP. PVDF, which stands for 'polyvinylidene fluoride', is considered to be the more premium of the two systems. However, that doesn't mean you should disqualify using SMP panels.
Let's talk about how the two types of paint systems compare in these areas:
Chemical Structure
Performance
Warranty
Cost
But we won't just leave you with information on the differences among the two. We will also clearly lay out what situations would make each of these paint systems right for you.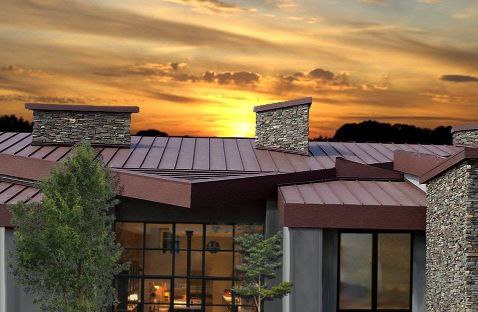 Chemical Structure: SMP Vs. PVDF Paint
Chemistry may not have been your favorite subject in school, but we have to quickly go over chemical structure to explain the differences in product performance. How well each product performs is directly associated with the quality of its components.
SMP Chemical Structure
SMP systems consist of polyester and silicone intermediates. Silicone aids in improving the gloss retention and weather resistance of the paint coatings. The amount of silicone in the coating varies depending on the product.
There is a wide range in quality when it comes to SMP paint. You want to look for a SMP with the greater amount of silicone. The higher the silica content, the better the performance of the paint.
PVDF Chemical Structure
PVDF coatings consist of one of the strongest bonds known, called the carbon-fluorine bond. This chemical structure gives it the ability to resist strong acids, solvents and reducing agents.
Performance: Fading And Chalking
When it comes down to it, you want the roofing panel that is going to do the job it's supposed to do and look the way it's supposed to look. That's what we mean by performance.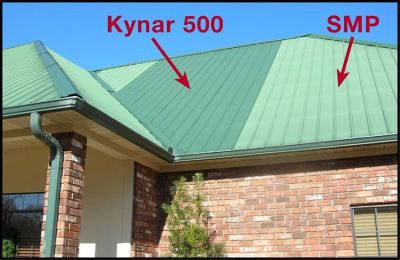 There are two big factors that come into play with metal roofing that impact the appearance of panels:
Fading- refers to the visible loss of color overtime.
Chalking- when the appearance of a powdery substance forms on the surface of a coating.
Both of these issues result directly from the chemical breakdown of a coating's base resins and pigments. These are two unavoidable components of a painted metal panel that keeps it from looking fresh and new, yet the paint systems handle them slightly differently.
SMP Performance
While the silicone in SMP paint helps with resistance to fading and chalking, the exposure to UV rays will cause colors to fade overtime. You will notice some vibrant colors, such as red, tend to fade faster than others.
As for chalking, choosing a lighter colored panel will make the appearance of chalking less apparent.
A benefit of SMP paint is that its resins are harder than those of PVDF. This adds a level of abrasion and scratch resistance to SMP paint.


PVDF Performance
The strong chemical foundation of PVDF paint makes it more suitable to provide long-term durability. It is less susceptible to losing its vibrancy from UV rays and having its color fade.
A downside with PVDF is that since it's softer than SMP, it can be scratched easier from branches or other debris.
Warranty: SMP Vs. PVDF Paints
Warranties vary greatly in the metal roofing industry, and they are not always what they seem to be. Make sure you read the fine print and pay attention to what the warranty covers beyond just the length of the warranty.
Paint warranties for metal panels cover 3 areas:
Film Adhesion/Integrity - Ability of the paint to stay on the metal substrate.
Chalk - Appearance of a white, powdery substance.
Fade/Color Change- The color losing its vibrancy.
Upon closer inspection of panel warranties, you'll notice that not all of these areas are covered for an equal amount of time.


Warranty For SMP Paint System
At first glance, it will look like SMP panels have a longer warranty than PVDF panels.
You'll see many SMP painted panels come with a 40-year warranty. While that sounds great at first, you'll then notice that the 40-years only covers film adhesion.
The coverage for fade/color change and chalk varies for SMP painted panels. However, it is usually always covered for less time than a PVDF panel warranty.


Warranty For PVDF Paint System
PVDF warranties for color change will vary on the time given depending on which color you choose.
In terms of the other warranties, you can expect to see a range of:
Film adhesion: 20 to 40 years
Chalking and fade coverage: 10 to 30 years
Cost Of SMP And PVDF Paint Systems
The biggest advantage of SMP paint systems over PVDF is the price. Cost is a bit tricky because sometimes your panel options limit your color options. For instance, if you want a 26 gauge panel then a PVDF paint finish isn't an option. If you're considering a 26 gauge panel you must compare a 26 gauge SMP versus a 24 gauge PVDF, which makes SMP substantially less.
So if you're able to compare the cost of each paint system for the same type of roof, the cost difference could be minimal. For example, the difference between a 24 gauge SMP and 24 gauge PVDF is minimal. But when you consider the cost of a heavier gauge panel paired with a more expensive paint system can cost you between 10% to 35% more than SMP.


Which Paint System Should I Choose?
We can only provide different aspects to consider as you determine which panel type is best for your situation.
SMP Paint Panels Typically Fit Those Who Are:
Interested in the most economical choice.
Will be using a lighter (thinner) gauge metal roofing panel.
Working on an industrial project where aesthetics are not a top priority.
Using lighter colors, such as white or tan, that can help disguise fading and chalking.

PVDF Paint Panels Typically Fit Those Who:
Have aesthetics as a main concern and/or you want a larger selection of colors.
You want the best paint system that will maintain the original color longer.
Will be choosing a bright and vibrant color such as red or green.
Want to match the longevity of the paint to the longevity of the metal roofing panel.
Are buying an expensive metal roofing panel such as standing seam.
Picking the correct paint system is a critical step in purchasing a metal roof. If you would like a deeper dive into the subject we recommend:
How To Pick Your Corrugated Metal Roofing Color
This is the part where the decisions get harder. While there are only a few different gauges and paint systems to choose from, there are over a hundred different colors of metal roofing on the market for metal roofing. How do you choose?
While personal preference should definitely be a main consideration in your decision, there are also some factors regarding your home that should be looked at.
Complement All Of Your Surrounding Features
Your metal roof color should blend in with the other features of your home. Think of how the roof will look against the color of the rest of your home.
You'll want to consider how your corrugated metal roof color will look blend with:
Siding
Stucco
Brick
Fencing
Gates
Landscaping
Railings
Columns
Other nearby features
Also consider the colors of features that will be closer to the roof including:
Fascia
Trims
Gutters
Downspout
You can choose a color that matches these features, or contrasts them for a pop of color.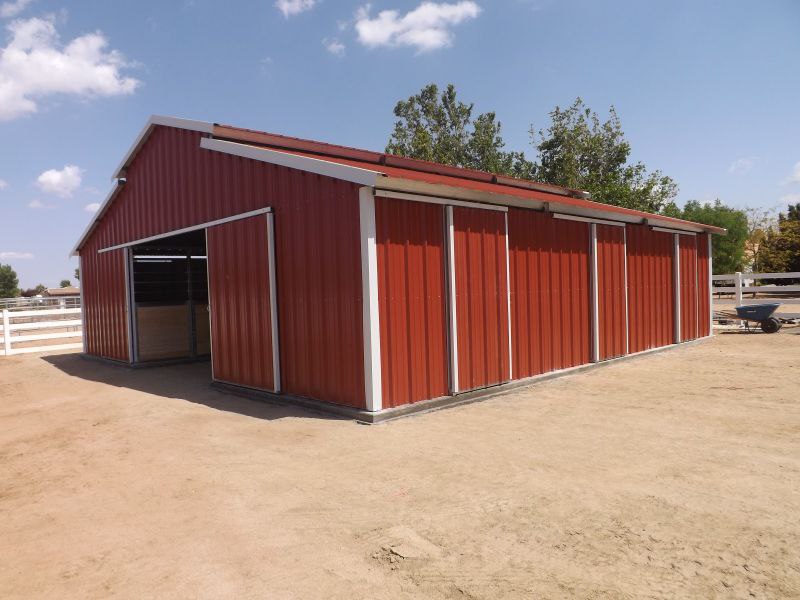 Dark Colors vs Light Colors
Color can help highlight or disguise certain features of your roof depending on the look you want.
Lighter color roofs make your roof look taller. If you have a low roof, this could benefit your home by making it seem taller than it actually is.
Darker colors will have the opposite effect and can make a tall roof look less profound. If you have a roof with a very high slope, you may want to choose a darker color to make the roof look less steep.


Homeowners Associations
Are you subject to the rules of a Homeowners Association(HOA)? If so, you first need to make sure that your HOA allows metal roofs.
Make sure they also do not have any color restrictions. If they do, you want to adhere to the list of approved colors while making your color selection. Once you know what color you want, submit a color chip to the HOA for approval.


Geographical Location
The color of your roof can also be influenced by the colors of the surrounding nature. Below are some examples of geographical locations and the roofing colors that are often used in the areas.
Mountains and forest locations- roofing in these types of locations are often in earth tones.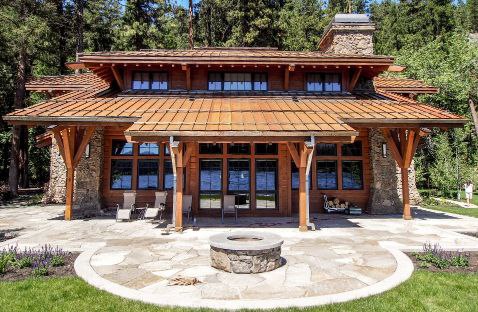 Standing Seam Metal Roof in Corten
Deserts and the Plains- often use warm with earthy tones. You'll usually see colors in these regions that match the desert sands and terracotta roof tiles.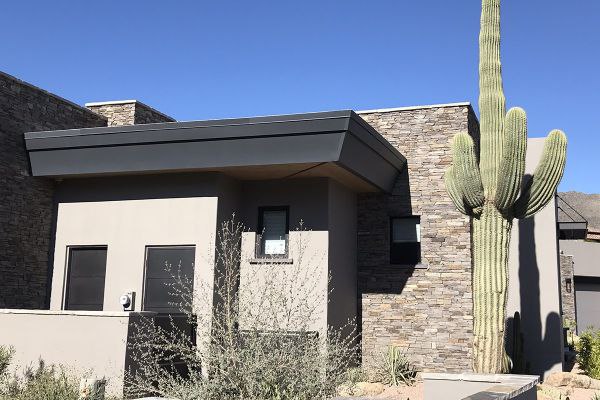 Tropical locations- Colors in these areas are often bright and vibrant.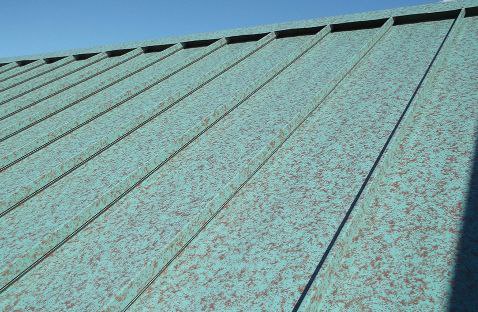 Standing Seam Metal Roof in Green Copper

The Style Of Architecture
You also want to look at the style of your home. Each style usually leans towards certain roofing colors such as the examples below.
Modern Architecture- The latest trend for modern style is to use roofing in dark colors, usually black.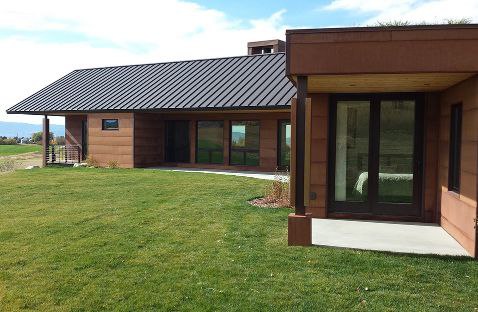 Standing Seam Metal Roof in Dark Bronze
Spanish Style Architecture- Plays off the look of a clay tile roof or an old and rusted look. Terra Cotta or rusted paint prints are great choices for this style.
Barns and Farmhouse Architecture- Often are in whites, reds, or dark grays.
For more information on choosing a metal roof color, we suggest reading:
Tools To Help You Pick A Corrugated Metal Roofing Color
We understand that picking a color for your roof can be a hard decision. Utilizing color selection tools will help make your roofing color choice easier.
We will be discussing 5 main selection tools in the chronological order that they should be used:
Color Cards
Photo Galleries
Product Visualizers
Color Chips
Panel Samples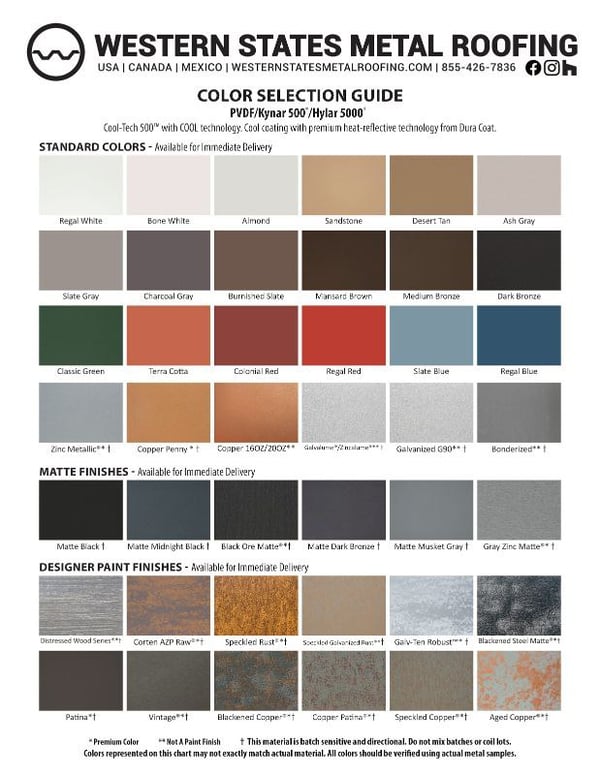 PVDF Color Card - Standard Colors

Color Cards
The first step is to look at color cards. Color cards group options together based on color or paint finish. For example, if you are looking for a green roof, this is where you'll be able to see all the shades of green at once.
Here are some examples of color cards grouped together by paint finish:

Photo Galleries
Photo galleries are where you can see your favorite choices from the color cards being used. Photos from past projects are a great way to see if you like the color in a roofing application.
Photos are generally grouped together by paint color and panel type to make it easier to search for your desired design.

Color Visualizers
Color visualizers give you a virtual view of how your roof will look with different panels or colors. You can choose a style of home or upload a photograph of your actual building or home. These programs allow you to create a digital mock-up of different versions of your design.
Each visualizer has different features, but often you are able to customize features such as:
Type and color of metal panel
Stucco or brick colors
Trim colors
Wall type and colors

Metal Color Chips
Metal color chips are when you can see a sample of the actual color in person. You want to make sure you look at the sample both up close and at a distance as the color will look slightly distant from different views.
Also, be sure to bring your color chip outside to see it in natural daylight, which is the lighting your roof will be viewed in. Compare the color chips at different times of the day as it will look different in the middle of the day than it will at sunset.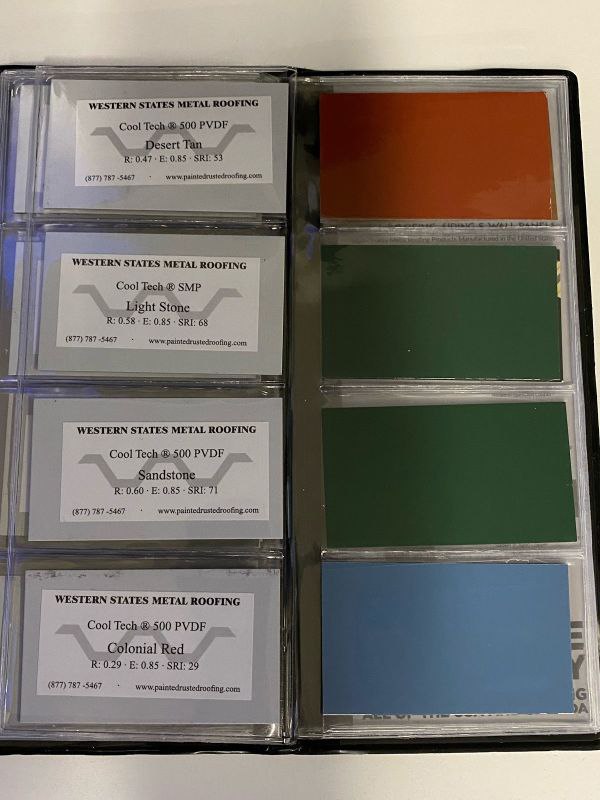 Corrugated Panel Samples
Corrugated panel samples give you the best idea of what your roof will look like as you'll be receiving a real roofing panel in your desired color.
Sometimes these samples have to be made specifically for you. Because they are larger and heavier than the color chips, they take longer to be delivered.
Panel samples are generally available from all manufacturers, but not necessarily in your chosen color. Every manufacturer has different policies as it's just not practical to provide a specific color in a specific panel type. Check with the manufacturer for sample availability.
At Western States Metal Roofing our policy is:
If you need a sample in a solid color such as Colonial Red you will receive a corrugated sample in galvalume or white and then a matching color chip in your specified color.
If the color is a specialty color such as Aged Copper then we will provide a panel sample in the specific color.

Roofing Underlayment
So far in this chapter, we've talked about choosing the right panel for your roof. There is also another part of your roofing system that you have to choose called roofing underlayment.
While underlayment is often overlooked because it isn't visible once it's installed, it is very important to the lifespan of your roof.

What Is Roofing Underlayment?
Roofing underlayment is a water-resistant barrier that serves as an extra layer of protection from the elements. It is installed directly onto the plywood roof deck, underneath all of the other roofing materials.

Roofing Underlayment Benefits
Adds a layer of protection for your home from water.
Added insulation for your home.
Sound barrier from outside noises.
It provides an even surface to lay roofing material on.
Keeps you in compliance with your roofing material warranty (if applicable).
Keeps you in compliance with your local building codes (if applicable).
There are two types of underlayment to consider:

Felt Roofing Underlayment
Felt underlayment is made from recycled corrugated paper mixed with sawdust. When compared to synthetic underlayment, felt is more resistant to leaking at staple or nail penetrations. This is because the paper it's made from is mixed with asphalt that increases its water resistance.
You can generally expect felt underlayment to last anywhere from 12 to 20 years.

Cost Of Felt Roofing Underlayment
Felt roofing underlayment is more affordable than synthetic roofing underlayment.
#15 felt (15 pounds per square): 5 cents per square foot
#30 felt (30 pounds per square): 10 cents per square foot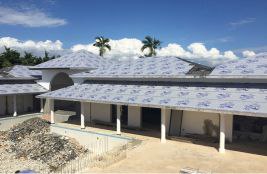 Sharkskin® Ultra Synthetic Underlayment
Synthetic Roofing Underlayment
Synthetic material is made from sheet products made of laminated polypropylene or polyethylene plastic. Its composition helps it have a longer lifespan than felt. It can last anywhere from 25 to 50 years.
Synthetic underlayment products are strong and will not tear and break from screws and nails penetrating it. While felt is more resistant to leaking at staple and nails penetrations, synthetic is the more durable product. It can handle exposure to weather conditions and will not be damaged by rain. If your roofing is not going to be installed right away, using synthetic underlayment will protect the structure during construction from any water damage.
Depending on which type of synthetic underlayment you use, it can be exposed anywhere from 2 to 30 months and still remain watertight.
It's also a safer product to work with. Synthetic underlayment provides better traction for roofers to walk on than felt underlayment during installation. This decreases the chances of anyone slipping and getting injured on the job.

Cost Of Synthetic Roofing Underlayment
There are different manufacturers of synthetic underlayment and different qualities. For our purposes, we are going to show how much Sharkskin® underlayment costs:
For a more in-depth look at the differences between felt and synthetic underlayment, we suggest reading:

Should I Use Felt Or Synthetic Underlayment?
You have to consider the specifics of your home or project. There are situations when one underlayment type is more suitable than the other.
Felt underlayment is recommended when:
You are looking for a more affordable underlayment solution.
You are using a light gauge and inexpensive metal roofing.
Building code requires the use of felt underlayment.
Synthetic underlayment is prohibited per the manufacturer's warranty for the intended roofing material and will make the warranty void. In this case, you will have to use felt as an alternative.
Synthetic underlayment is recommended for:
You prefer a longer lasting underlayment.
You are using a more expensive metal roofing panel.
You want to match the longevity of the metal roofing panel to the longevity of the roofing underlayment.
Easy installation. This material is lightweight and safer to walk on than felt.
Smoother appearance from laying flatter on the roof decking.
Durability. If your roof is going to be installed slowly, synthetic underlayment is best to use as it can withstand exposure to the elements for weeks or even months.
You live in a climate that often experiences stormy conditions such as heavy rain and high winds.

What's The Best Gauge For My Corrugated Metal Roof?
Determining the correct gauge for your corrugated metal roofing sheets can be a bit confusing at first, but don't worry as it's actually the easiest part.
First, as a reminder let's give you a cliff notes version of panel gauges. The thickness of the steel is called the "gauge" and as the number gets higher the thickness actually lessens. For example, 26 gauge is lighter than 24 gauge.
If you decide to use a corrugated roofing panel, you will have the most gauge options of any metal roofing panel. This is one of the few panels that is made as light as 29 gauge and as heavy as 20 gauge. Don't let this intimidate you because a lot of these choices will actually be made for you based upon the paint system and color that you choose.
We actually recommend you decide upon the panel type, color, and paint system before worrying about the gauge for this reason.
The gauge that you need for your home will be determined by the type of installation.
There are different requirements for these two types of installations:
Installation on a plywood substrate
Panels that span from one support to the next support

Installation Of Corrugated Panels On A Wood Substrate

If you're looking for a roof for your home, then the vast majority of times you will fall under this category. This is when the structure of the roof is a plywood deck and there is a roofing underlayment that's installed between the plywood and the corrugated metal roofing panel. The strength of the roofing panel isn't as important in this application. Most metal roofing that attaches to a wood substrate is 29, 26, or 24 gauge.
There are two articles, linked below, that talk about this in great detail so we are only going to briefly discuss why the lightest and heaviest gauges should be eliminated.
If you decide on using a light 29 gauge steel, your roof will be more susceptible to wind damage, more likely to dent during a hail storm, and will have lower snow load capabilities. The result for you is many more problems. You will see a $500 to $1,000 savings on the total installed cost of the roof, but it's just not well-spent money.
The opposite side of the spectrum is a heavy gauge steel in 20 or 22 gauge. The only downside to a heavier gauge is the cost, but realistically for most homeowners it will not make much of a difference unless you have possible hail concerns. Purchasing a heavier gauge than you need is usually an unnecessary investment.
That really leaves most homeowners with the choice of whether you should use 26 or 24 gauge steel.

Should I Use 24 Or 26 Gauge Metal Roofing?
Either of these thicknesses offer you with a quality panel at a fair price point.
Some circumstances and climates would make 24 gauge your best option
High winds.
Heavy snow loads.
Hail concerns.
PVDF paint finishes are not available in 26 gauge.
In other instances, a 26 gauge material might be the best choice
Cost savings of about 30 to 40%.
Patio cover application and not a roof structure.
Your climate doesn't typically have high winds, hail, and snow.
Both gauges of steel are a solid and high-quality product. In the end, it comes down to budget, paint finish, and climate. If you want a much more detailed analysis of determining the best gauge for your project we recommend these two articles.
What Gauge Metal Roofing Should I Use For My Corrugated Roof?
What Gauge Metal Roofing Should I Use? (26 Gauge v. 29 Gauge)

What If My Metal Roofing Is Spanning From Support To Support?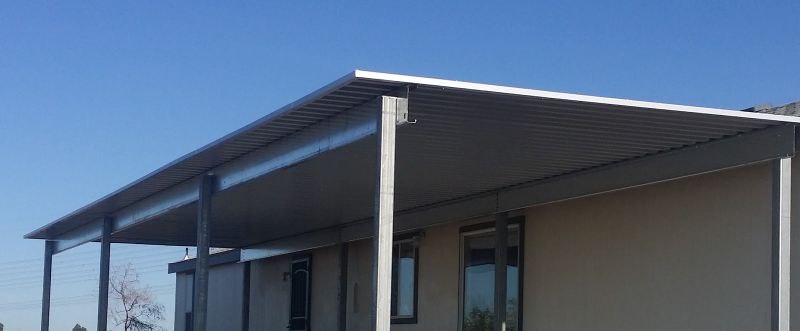 When corrugated metal roofing panels are installed over metal purlins or wood, the strength of the panel becomes critical. The roofing panel has to span the distance between the metal purlins and also handle the load and wind uplift. As the supports are spaced further apart, the gauge of the roofing material will have to increase to accommodate.
We suggest you hire an engineer or look at the online load charts and wind uplifts to determine which gauge is best for your home.