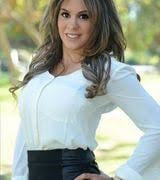 Metal Fascia Trim And Panels: Types, Cost, and Uses
A metal roof is composed of many different parts, both large and small, that collectively make it a durable, quality roofing system that can last 50 years or longer. Some of the smaller details, like metal fascia, are sometimes overlooked by a homeowner. However, this accessory is crucial to the roof's functionality and refined appearance.
Not only does Western States Metal Roofing manufacture quality metal roofing and siding panels in over 100 custom colors, we also manufacture all the accessories you'll need to successfully complete your roofing project, including fascia panels.
This article goes over everything you need to know about metal fascia.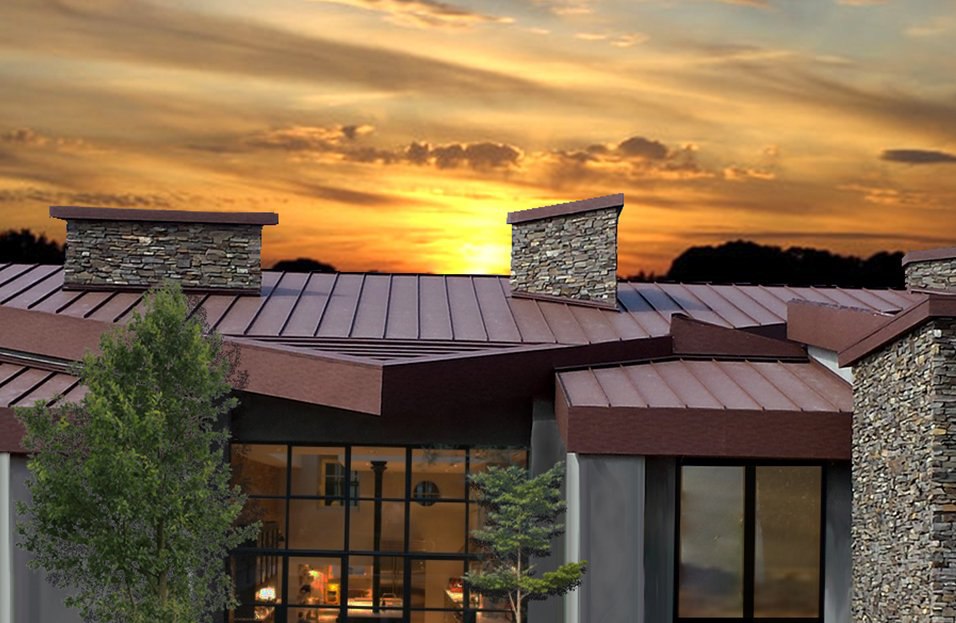 What Is Metal Fascia?
Metal fascia covers a structure from the drip edge to the soffit for added protection and a finished look. Metal fascia goes over the fascia board, which is the wood trim installed along the roofing edge of your home. Simply put, it closes the gap between the walls and the roof of a structure. Metal fascia is durable, eco-friendly and low maintenance.
When this article refers to metal, we are referring to steel. However, aluminum fascia is also another type of material that can be used. We recommend looking into the differences between aluminum and steel to decide which is best for you.
What Are The Different Types Of Metal Fascia?
There are three types of metal fascia:
Metal Fascia Trim
Standard Metal Fascia Panel
Custom Metal Fascia Panel
Metal Fascia Trim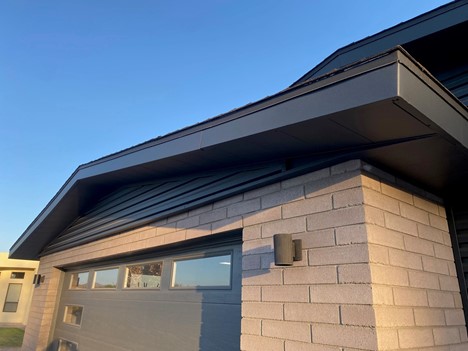 Metal fascia trim are trim pieces that cover the fascia boards of your home and are also referred to as a metal fascia wrap. It's simply an extended piece of gable and eave trim that covers the entire fascia board vs. a portion of the fascia board. This is the most simple option for covering fascia.
Metal Fascia Panels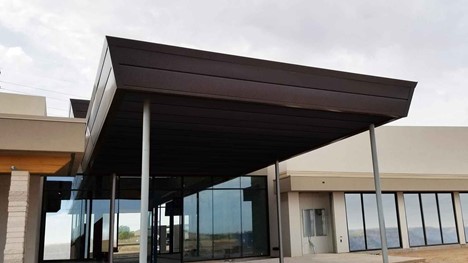 Western Reveal® Metal Fascia Panel
Metal fascia panels are made by metal manufacturers and are readily available in a wide variety of colors. While this is not custom work, you have plenty of profiles, colors, and finishes to choose from. Lengths can also be modified to fit your project.
There are three types of metal fascia panels that are available: Flush wall panels, reveal panels, and wave panels.
Custom Metal Fascia Panel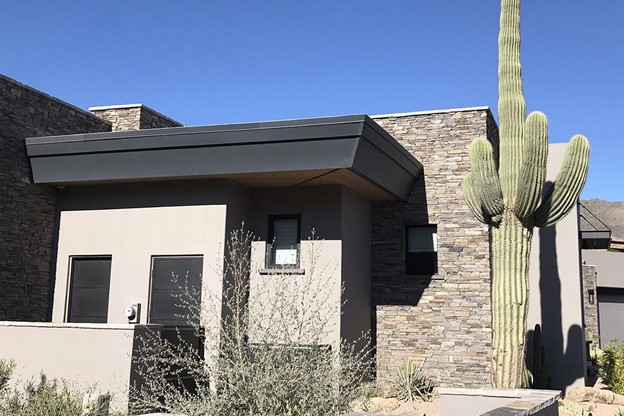 For the ultimate design appearance, custom metal fascia panels, or fascia wrapping, can be made for your home or building. This option is the most expensive and time consuming, but provides your project with a more sophisticated appearance.
Metal Fascia Cost
Metal roof fascia trim is the most affordable option. For a more specific idea of what metal fascia trim will cost, you would need to know the size of the trim, gauge, and the finish.
Standard metal fascia panels are the second most affordable option, with custom fascia panels being the most expensive option due to increased labor and workmanship to design the panels that are made specifically for your project. The metal fascia installation is also usually higher on these projects.
| | | |
| --- | --- | --- |
| Metal Fascia Trim | Standard Metal Fascia Panel | Custom Metal Fascia Panel |
| $2.00- $3.00 Per Linear Foot | $3.00- $5.00 Per Linear Foot | Varies |
The above chart gives you a general idea of the cost of metal fascia. However, please keep in mind that we are currently in a steel shortage and the price of steel is volatile. In addition, it's hard to give an accurate estimate without knowing the specifics of the metal fascia.
For more information on the steel shortage, we recommend watching the following video:
What Is The Difference Between Fascia Panels And Soffit Panels?
Fascia panels are also referred to as soffit panels, or the terms are used interchangeably. While these elements found along the eave area are very similar, it's important to note these are two different areas on a roof.
As we just mentioned, the fascia runs along the lower edge of the roof. The soffit panels are installed under the fascia to cover the framing that would be exposed underneath. While they are touching, they are two separate panels and should be referred to as separate components of the roofing system.
What Is The Purpose Of Metal Fascia On A House?
Protection
Stabilizes gutters
Additional roof support
Appearance
Fascia Provides Protection
Metal fascia trim increases the lifespan of the wood fascia board by wrapping it in steel. It serves as a barrier and first line of defense to anything that could cause harm to a structure including water, debris, insects, and small animals. This protection keeps moisture from entering the roof deck and possibly interior which can cause costly damage such as leaks, rotting and mold.
Fascia Supports Gutters
Metal fascia gives gutters something to attach onto while also helping stabilize the gutters and keep them in place. The structural integrity of fascia is extremely important which is why a material with durability like metal is a smart choice. The fascia needs to be strong enough to withstand the weight of full gutters and also the roofing system above it.
Metal Fascia Is Additional Support For The Roof
In addition to the gutters, metal fascia also provides additional support to the roofline (where the outer walls meet the roof) of the building.
Fascia Enhances A Roof's Appearance
Fascia provides a beautiful finish and enhanced aesthetic to your property. When used in a contrasting paint color to the rest of the roof and siding, fascia can frame out and bring attention to certain features of a home or structure such as roof peaks.
Without fascia panels, parts of the roof rafters would be left exposed. Besides being dangerous to the functionality of the roof, exposed rafters are also not visually appealing.
What Are The Types Of Metal Fascia Panels?
Flush Fascia Panel
Reveal Fascia Panel
Rigid Fascia Panel
T-8 Plankwall
All of these panels contain concealed fasteners, meaning they do not have visible screws which makes for a clean, streamlined appearance. This also makes the panel more weathertight.
Each type of panel can also be used for siding and soffit applications.
Flush Metal Fascia Panel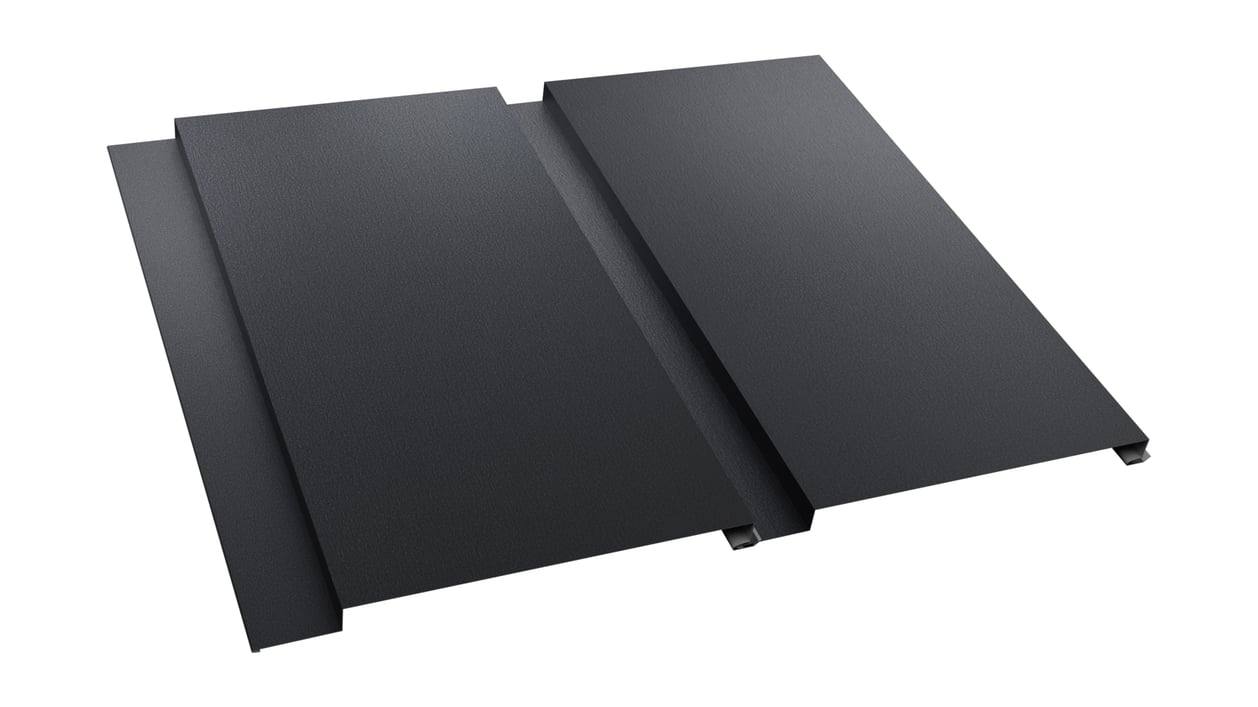 T-Groove® Flush Wall in Black Ore Matte
A flush metal fascia panel, such as T-Groove, are flat in appearance and can be customized to have different sized reveals.
Learn more about flush fascia panels by reading: Flush Metal Wall And Soffit Panels: Pros, Cons, and Cost
Reveal Fascia Panel

Western Reveal- 3" inch reveal
Western Reveal is a versatile metal fascia panel that is a bit different from T-groove because you have the option to pick the "reveal" or gap size between the panels. Gaps are available in 1", 2" 3" or no reveal. You can even mix and match the reveal size and the panel widths.
Rigid Metal Fascia Panel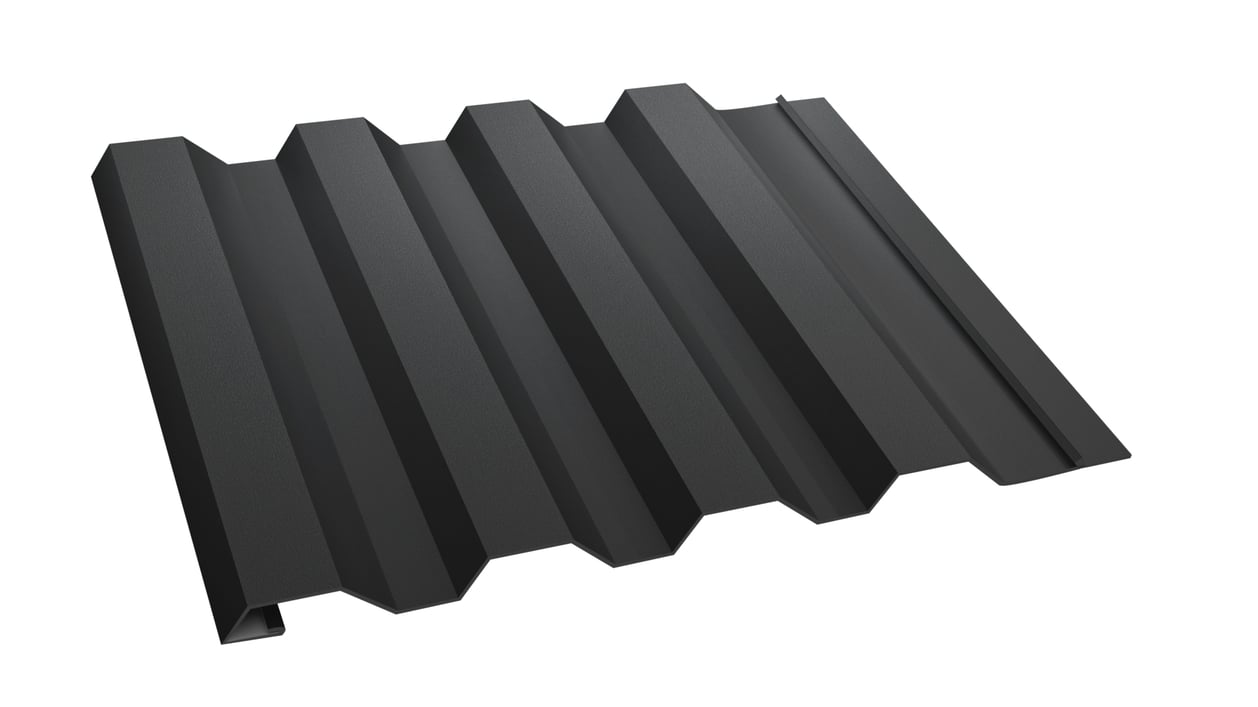 Western Wave in Black Ore Matte
Rigid metal fascia panels, such as Western Wave, are also sometimes known as Wave panels as they feature a wavy appearance. This panel costs less, is stronger, and provides a completely different aesthetic.
T-8 Plankwall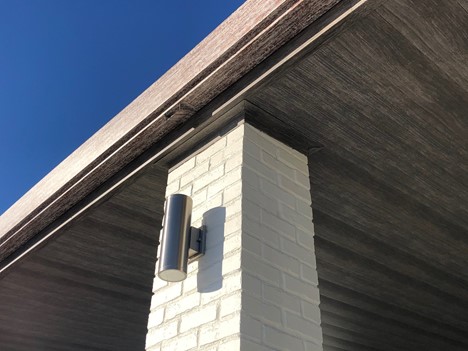 Fascia panel T-8 Plankwall in Distressed Wood
T-8 plankwall is a metal panel designed to look like wood. This panel is a great idea to use when looking to achieve a wood look but spend less money and have less maintenance in the future.
Metal Fascia Colors For Your Roofing System
As we've discussed, metal fascia has a variety of functionality tasks while also enhancing a home or building's exterior. If you have gutters, then fascia is a must as they will need something to attach onto.
Western States Metal Roofing offers fascia panels in over 100 custom colors in a variety of different profiles. Check out our extensive fascia panel collection in our color resource center and request a sample to see your favorite color option in person.
Try our color visualizer tool to try out your favorite colors and design your roof right from the comfort of your computer.