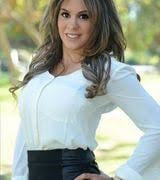 What Is R Panel Roofing? Definition, Alternatives, Cost and Colors
If you're searching for the right metal panel for your project, you've most likely realized there are many different options to choose from. One metal panel that does not get discussed as often as some other panels, yet provides a great value at a lower price, is R-Panel.
While most often used in agricultural and industrial buildings,
R-Panel
can be used as either roofing or siding in commercial or residential properties.
At Western States Metal Roofing, we have been manufacturing R-Panel, along with our other metal panels, for over 20 years. We tell our customers that we believe R-Panel is the nicest panel at the lowest price point. However, it's still an exposed fastener panel which has quite a few advantages and disadvantages when compared to standing seam panels.
For more on the differences between exposed fastener and standing seam, please watch:
Perhaps you either haven't heard of R-Panel before or don't know much about it. Our goal in this article is to change that by educating you on R-Panel so that you can decide if it's a material to consider for your next project. We will discuss:
What is R-Panel?
R-Panel v. PBR Panel
R-Panel v. U-Panel
R-Panel Cost
R-Panel Installation
R-Panel Color Options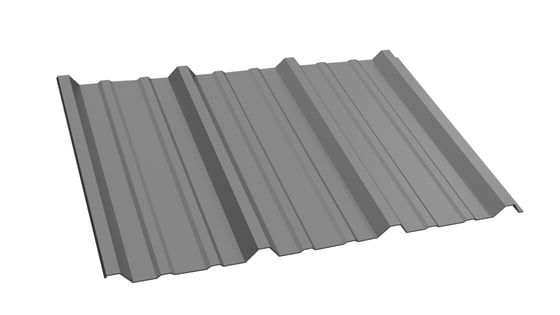 R- Panel in Slate Gray
What Is R Panel Roofing?
R Panel roofing is a metal roof made of 36" metal panels that have raised ribs with a flat area between the ribs. R-Panel is used in both residential and commercial applications and can also be used as siding.
What Is The Thickness Of R-Panel?
R-Panel comes in different gauges that range from 22 to 29-gauge metal, but 26 gauge is the most common panel thickness.
If you have additional questions in determining what thickness of material you should purchase we recommend that you read:
What Gauge Metal Roofing Should I Use? (26 Gauge v. 29 Gauge)
Metal Roofing Gauges: What's Best For Residential?
R-Panel Alternatives
R Panel vs. PBR Panel
PBR-Panels and R Panels have identical profiles and the same 36" coverage. However, PBR Panels include a larger overlap section, known as a purlin bearing leg, that R-Panels don't have. This section between the panels gives the metal roofing more strength.
PBR-Panels have several benefits over R-Panel, but we'll discuss when the R-Panel would be an appropriate choice as well.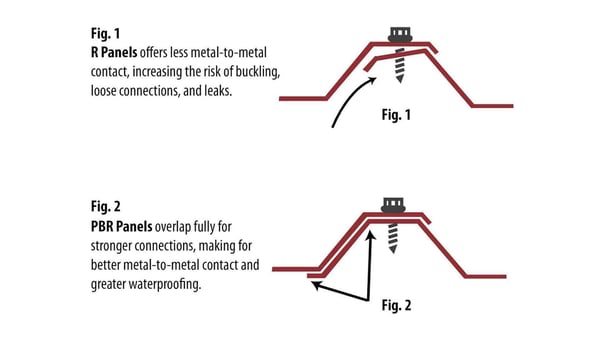 PBR panels are more weather tight due to the overlapping that creates a moisture barrier. The weaker connection of R Panels makes the likelihood of leaks greater.
PBR is overall a stronger panel due to how each panel is connected to one another. A person walking on the roof will not crush the PBR-panel. However, R Panels might buckle from the weight of workers during installation or repairs.
In a roofing application PBR Panel would be a better product. If you have a wall or a metal siding application, either panel profile would be fine.
Keep in mind that the cost difference is 2% to 3% so most manufacturers will only offer PBR Panel and will not sell R Panel.
R Panel vs. U Panel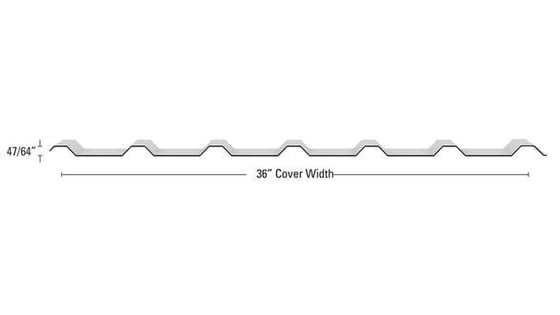 U-Panel Metal Roofing
U-Panel metal roofing is an exposed fastener roofing system consisting of panels that are 36" wide with ribs that are 3/4" deep. Known for its economical through-fastened design, U-Panels, or utility panels, are preferred for light commercial and industrial roofing or wall applications.
While both U-panels and R-Panels are very similar, the biggest difference is in their shape. R-Panels have ribs that are different heights where the ribs on a U-Panel are all the same height.
The other key differences between the panels:
R-Panel is a stronger panel
R-Panels are more readily available
Similar cost, but U-Panel might be 5% cheaper depending upon the supplier


How Much Does R Panel Cost?
A major advantage of using R Panel is that it is one of the most cost-effective metal panels.
R Panel will generally cost $2.00-$5.0 per square foot for material.
By comparison, R Panel is about 15-20% less expensive than corrugated metal panels, and at least 50% less than standing seam panels. This is why it's a particularly popular choice for commercial/ industrial buildings where projects are more focused more on budget than appearance.
The chart below shows a price range of R Panel for material only that reflects pricing for 2022 based on the current steel shortage. The price is broken down based on gauge and paint system.
| | |
| --- | --- |
| 26 Gauge R-Panel (SMP Paint) | $2.00- $2.50 per sq. ft. |
| 24 Gauge R-Panel (PVDF Paint) | $2.50- $3.50 per sq. ft. |
| 24 Gauge R-Panel (SMP Paint) | $2.50- $3.00 per sq. ft. |
| 22 Gauge R-Panel (PVDF Paint) | $3.50- $5.00 per sq. ft. |
How To Install R Panel
R Panels have an exposed fastener system, meaning the fasteners penetrate the panels. Each time this occurs it's a potential leak point. Also there are visible screw heads throughout the panel post-installation.

A benefit of an exposed fastener system is that the installation is generally faster and simpler compared to a concealed fastener system. As a result, the installation costs on R-Panel are usually 30% to 50% less expensive than the installation of a standing seam metal roofing.

A simpler installation also makes R-Panel a good choice for a DIY project, as less time, tools, and experience is required for installation.

Download Our R-Panel Installation Guide

R-Panel is compatible with most roofs. It only requires a minimum pitch of 3:12. If you have a pitch that is lower than 3:12 then you should consider a deeper exposed fastener panel such as Western Rib or a standing seam panel.


If you need help determining the pitch of your roof, we suggest reading:

Roof Pitch: An Easy Formula To Determine Suitable Roof
Metal Roofing Colors For R Panel
R Panel is offered in more color options than most metal panels. This is because it's also offered in multiple paint finishes. In fact at Western States Metal Roofing, we offer R-Panel in over 100 unique specialty paint prints and colors in both paint finishes. You will find the panels in both the premium PVDF or the more affordable SMP paint.
If you need help choosing a metal roofing color the article below has tons of great tips and suggestions that will make it easy to pick the perfect metal roofing color.
Keep in mind though that the main reason most people use R Panel is for the cost savings. The best bang for your buck is an SMP paint finish in a 26 gauge thickness. PVDF paint is only available in 24 gauge material and this will increase the cost by 50% when compared to SMP/26GA.
It's critically important to understand the key differences between both paint systems. In some instances a 26 gauge SMP paint is the correct product, but in other cases the product should be heavier gauge PVDF. We suggest that you read:
Best Paint For My Metal Roof Panels: SMP Paint v PVDF
SMP Color Card - Standard Colors
PVDF Color Card - Standard Colors
When Would R-Panel Be A Good Fit For My Home?
R-Panel is a great solution if you are looking for a lower cost, sturdy metal panel. It's a versatile panel that comes in a wide range of designs and can be used for metal roofing or metal siding applications.
We believe R-Panel is the metal panel that provides the most value. It's also a great option if you are looking to do the installation yourself or are looking for a lower cost professional installation. Since the installation of R-Panel is faster and simpler than a concealed panel such as standing seam, contractors will often charge less to install it.
R Panel is the perfect panel for a metal siding application because it has a perfect balance of value, strength, and it's DIY friendly. However, if you are using it for a roof then you need to weigh the pros and cons of saving lots of money, but having screws that penetrate the panel. If the screw holes are a concern and your budget is more flexible a standing seam panel might be a better fit.
Learn more about the differences between an exposed fastener panel like R-Panel and Standing Seam by reading:
R-Panel Roofing vs. Standing Seam: The Key Differences For Homeowners