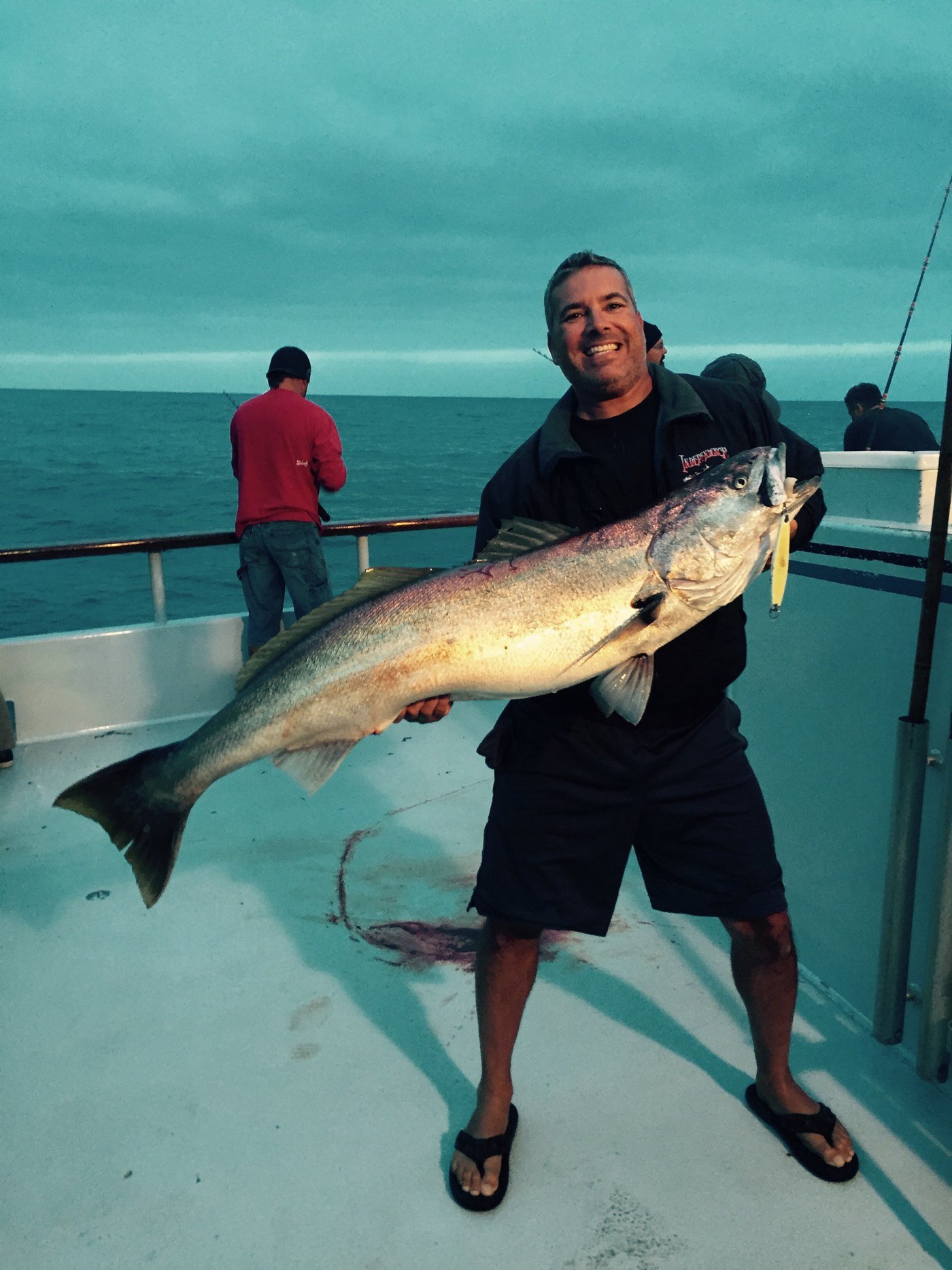 10 Benefits Of A Standing Seam Metal Roof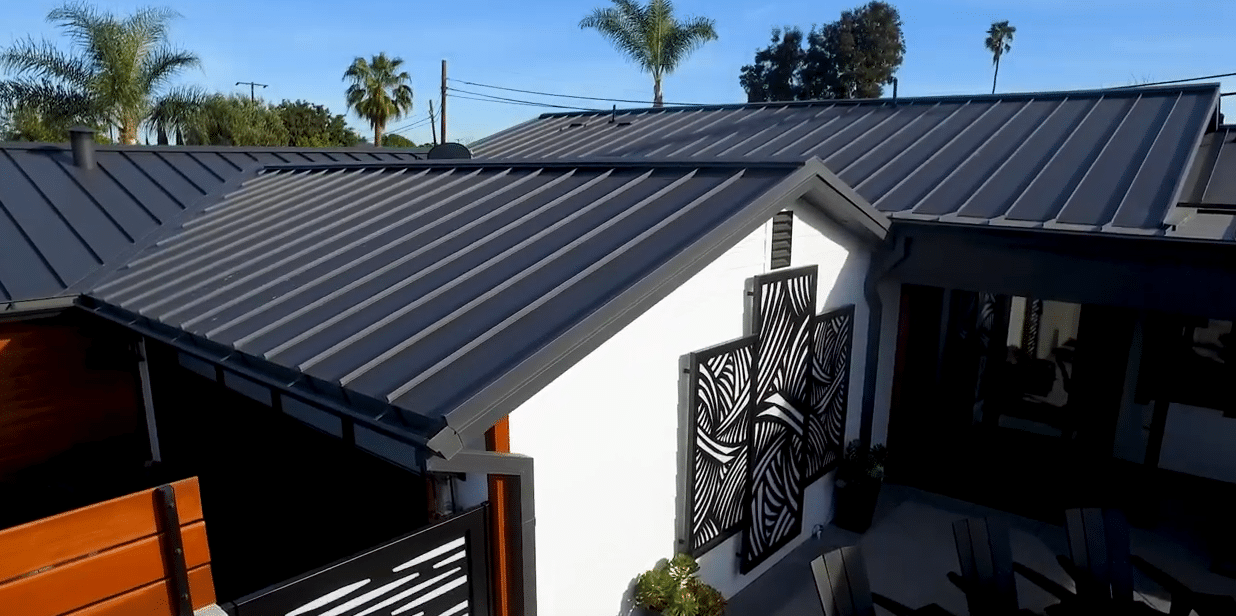 You have so many options to consider when you're looking for a new roof for your home. Even if you've narrowed your choices, you still have to choose between a standing seam metal roof and corrugated metal roof (along with the many options within each of those).
The first step in your journey to purchase a metal roof centers upon choosing the correct metal roofing panel. There are lots of choices available, but the overwhelming majority of homeowners will choose one of these three panels: ⅞" Corrugated, R Panel/PBR Panel, or standing seam.
Each of these panels has a unique set of advantages and disadvantages. Our goal in this article is to educate you on one of our most popular panels, standing seam metal roofing. We want you to know the pros and the cons so you can make the best decision for your metal roof.
Top 10 Benefits Of A Standing Seam Metal Roof:
Weather-tightness
Long Lasting and Durable
Curb Appeal
Fire Resistance
Less Maintenance
Color Choices
Energy Efficiency
Increased Home Value
Suitable For Low Slope Roofs
Compatible With Solar Panels and Snow Retention Systems
At Western States Metal Roofing we are asked questions on a daily basis about standing seam metal roofing. It's the most misunderstood panel that we carry. Most of these questions center around this subject: What's better standing seam or corrugated metal roofing?
Because it's a question we get all the time, it's worth touching on this question. If you are unfamiliar with these differences, we would highly recommend that you read these articles.
Corrugated Metal Roofing v. Standing Seam (Advantages & Disadvantages)
Exposed Fastener Metal Panels v. Standing Seam Systems For Metal Roofs
Standing Seam Roof Panels Are More Weather-Tight
There are two types of fastening systems that are available when you purchase a metal roof, concealed fastener or exposed fastener. Standing seam panels are considered a concealed fastener metal roofing panel. This is the most weather-tight roofing system. Understanding the differences between these two systems is the first step in deciding which type of metal panel is best for your residential roof.
Concealed Fastener Vs Exposed Fastener Metal Roof
The main benefit of a standing seam roofing panel is the fastening system. Standing seam is a concealed fastener metal roofing panel. This means that the panels are attached to the substrate using concealed clips and fasteners. The screws do not penetrate the metal roofing panel.

This is important because unlike an exposed fastener metal roof panel you will not have thousands of screw holes in the panel. A standing seam roof eliminates all of the potential leak points that screws cause.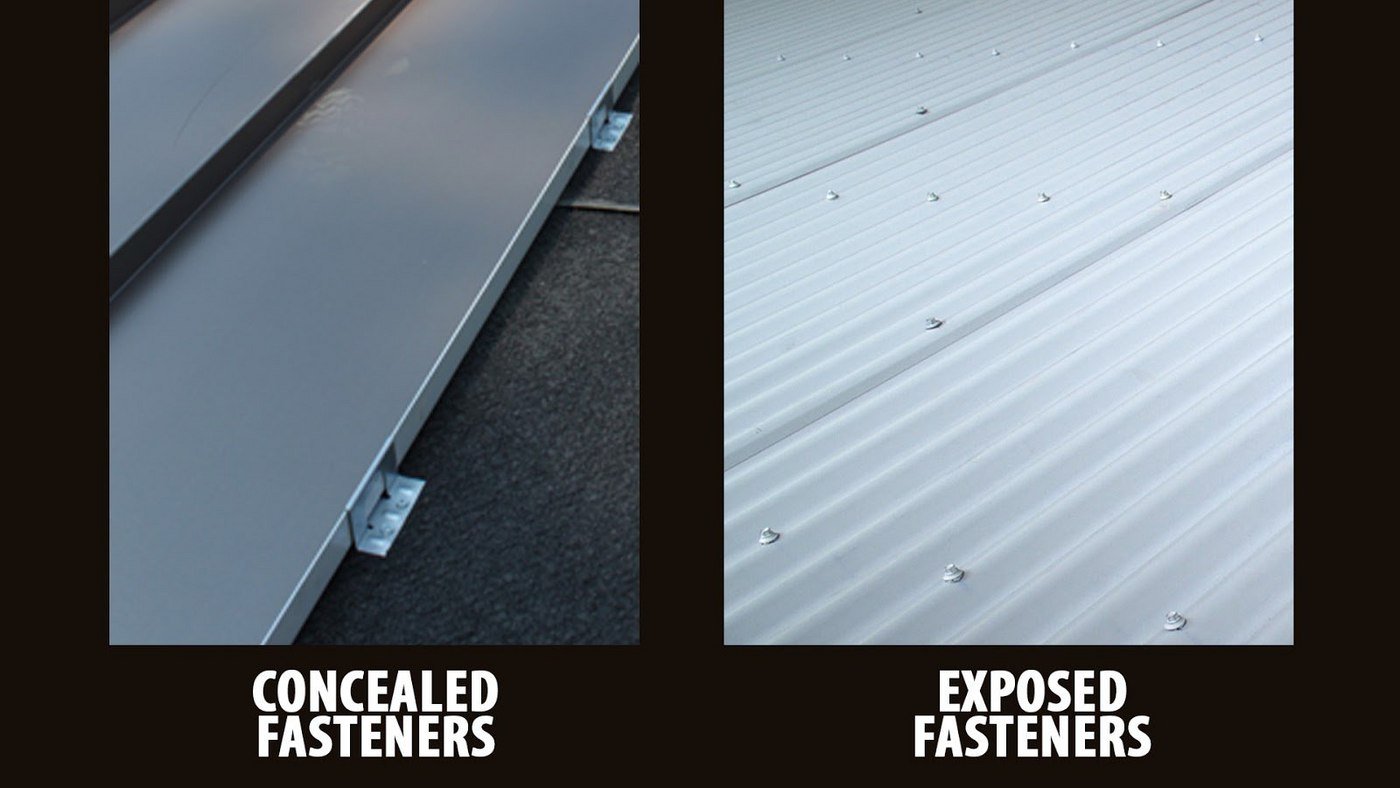 Standing Seam Metal Roofing Details
The seams are the weakest point on the metal roof and the most likely place where water can penetrate the metal roofing. Most standing seam panels have a panel seam that is 1.75" to 2" in height. Having the seam located 2" above the height of the panels significantly lessens the likelihood of roof leaks.
In addition, you can use longer sheets and avoid panel overlaps. Standing seam roofs are designed to allow for expansion and contraction. As the temperature changes from hot to cold the panels are designed to allow for thermal movement. This gives you the opportunity to have sheet lengths in excess of forty feet.
Standing Seam Metal Roofing Lifespan
Standing seam metal roofing is often referred to as a "Lifetime Roof", meaning you should only need to purchase one roof in your life for your house. It's a long term investment. Standing seam metal roofing can last 40-70 years.
Metal is able to withstand harsh climates and even winds up to 140 mph. It will not collapse under its own weight during a snowstorm or torrential rain.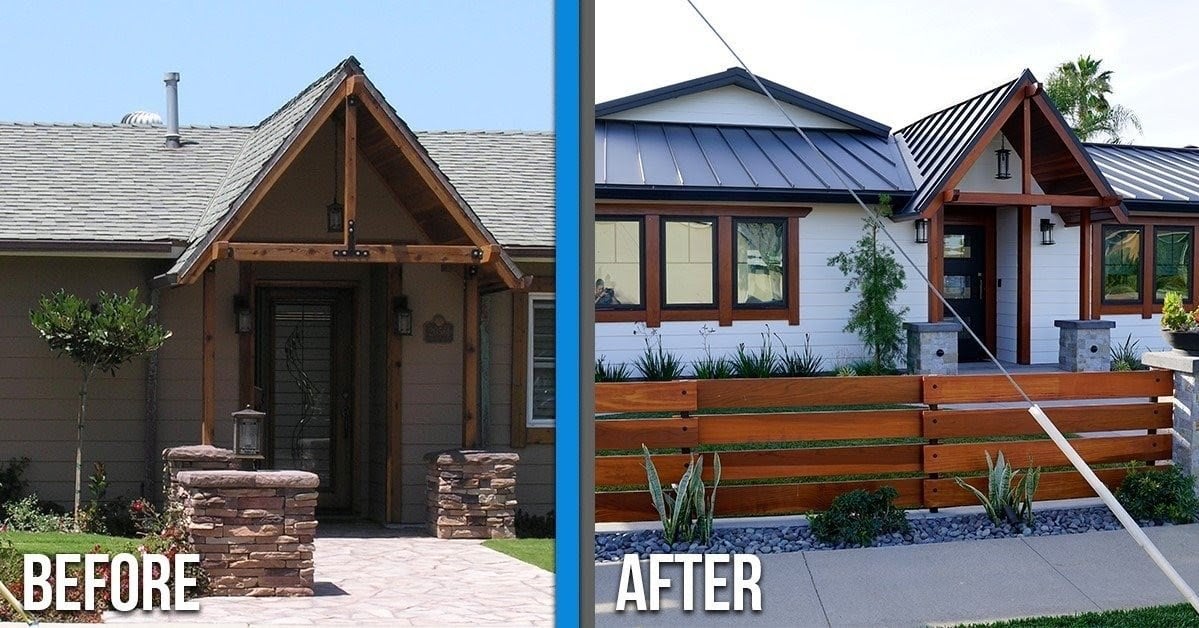 Standing Seam Metal Roofing in Black Ore Matte
The Curb Appeal Of Residential Standing Seam Metal Roofing
Standing seam metal roofing transforms the look of your residential home and creates instant curb appeal. Looks are subjective, but standing seam metal is generally considered to be the best looking metal roofing panel. It's a clean and modern design with sleek, straight lines. In addition, the fasteners are concealed so you will not have a bunch of visible screw heads.
Standing Seam Roof Panels Are Fire Resistant
Have you seen the pictures of a neighborhood that has been devastated by a wildfire and one lone home remains undamaged? That home is normally the one that has a metal roof. Unfortunately, as the temperature of the climate increases, large forest fires are becoming the norm each year.
A metal roof is your first line of defense against your house burning to the ground. Standing seam metal roofing panels are an excellent investment to make for your home to survive a wildfire.
Metal roofing isn't combustible and when installed correctly, standing seam will have a Class A fire rating. Class "A": The highest fire-resistance rating for roofing as per ASTM E-108. This indicates roofing is able to withstand severe exposure to fire originating from sources outside the building.
You cannot create a fireproof house. However, fire rating systems allow builders and architects to choose materials that reduce the spread of fire. This allows more time for firefighters to arrive and put out the fire before it does significant damage.
The standing seam metal roofing panels will have a Class A fire rating. However, the roofing structure as a whole may receive a different fire rating. For example, if you installed a standing seam roof over the top of existing wood shingles then it would not be a Class A fire rated roofing system. You want to use a roofing underlayment that's Class A fire rated so that your entire roofing assembly is built to Class A fire rating specifications.
In addition, roofs that have a Class A fire rating often cost less to insure. The same way that a brick or stone home cost less to insure than a wood home, a metal roof is less expensive when compared to shingles. Having a metal roof reduces the risk to insure the property, and those savings are passed back to the customer.
If you would like to learn more about Class A fire ratings, we recommend:
Metal Roof Fire Resistance: Class A Fire Ratings Can Protect Your Home
Standing Seam Metal Panels Require Less Roof Maintenance
Because the fasteners are concealed, they aren't exposed to the weather. This means that there aren't any washers on the screws that will break down and need to be replaced. Concealed fasteners are the main reason that standing seam requires less maintenance than other types of metal roofing panels.
Expansion and contraction is not an issue with a standing seam roof. Therefore, you won't have the headache of climbing on your roof periodically, checking to make sure the fasteners have not backed out, and then re-tightening them.
All roofs require regular maintenance. It's recommended to do maintenance at least once a year. This can either be performed by the property owner, contractor, or a roof maintenance service. The goal of the maintenance is to find potential problem spots early so that they don't become a much bigger problem.
Maintaining Your Metal Roof: 6 Steps You Need To Be Taking
Standing Seam Metal Roof Color Choices
Standing seam metal roofing colors are typically available in a PVDF paint system. PVDF is the best paint system that's widely available for use on metal roofing panels. You are buying the nicest and most expensive metal roofing system. Standing seam roofs can last for 50 years or longer. You need a paint system that matches the performance of the roofing panel.
Color fades at a less rapid rate with a PVDF paint system. This is why all of the bright and vibrant colors are PVDF paint. A lesser quality paint like an SMP paint system usually allows for 6-12 color options. By contrast, a PVDF painted standing seam metal roof has endless color options to choose from. Here are some of the most popular metal roof colors and styles.
Standing Seam Metal Roof Color Charts
Metal Roof Energy Savings
Most standing seam panels are considered a "Cool Metal Roof". The PVDF paint system has cool pigments, which increases solar reflectance and lessens the surface temperature of your metal roof. Heat absorption is prevented by reflecting the sun's heat and then emitting its radiation back into the atmosphere.
Does A Metal Roof Save Energy?
Metal roofs are energy efficient. The main advantage of a cool roof is the money you will save on energy costs. Statistics from the Green Building Alliance show that energy savings will range from 7%-15% of total cooling costs.
Are Metal Roofs More Energy Efficient Than Shingles?
When you have a "cool roof", it can be 50 to 60 degrees cooler than dark asphalt shingles. This will lessen the load of your air conditioner and save you money on your monthly electric bill.
Metal Roof Vs Shingles Resale Value
According to the internet a metal roof will increase the value of your home. Of course the internet is never wrong, right? A study that was done by Remodeling magazine and published by Angie's List concluded metal roofs renovated with standing seam metal roofing recoup 85% to 95% of costs. These gains in resale value amount to 1% to 6%, respectively, over homes roofed with asphalt shingles.
If you are building an upscale home in an upscale neighborhood, you need a roof that matches the house and adds value.
If you would like a more in depth explanation of metal roofing resale values we recommend:
Comparing The Resale Value Of Metal Roofs Vs Shingle Roofs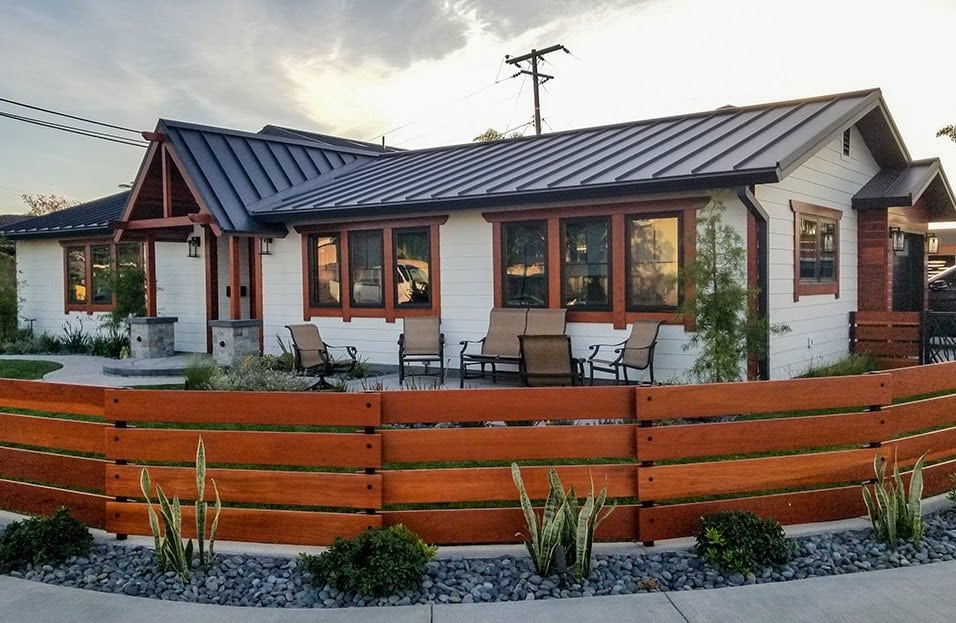 Standing Seam Metal Roofing in Black Ore Matte
Lower Minimum Pitch For Standing Seam Roofs
A mechanically fastened standing seam can be installed on a roof with a pitch as low as .5" to 1" in 12". Snap lock standing seam should have a minimum 3" in 12" pitch.
Snow Guards And Solar Panels For Standing Seam
S-5 clips allow you to attach solar panels and snow guards to standing seam metal roofs. There will not be any fasteners penetrating the metal roofing panels and creating additional leak points. Leaking screws are the number one cause of roof leaks and you will not have to worry about that with a standing seam panel.
Standing Seam Metal Roofing Problems
Our goal in this article was to discuss all of the advantages of a standing seam roof. However, we did not mention the disadvantages of a standing seam metal roof. At Western States Metal Roofing, our goal is to be fully transparent about pros and cons of standing seam roofing. Below is a list of the 5 biggest problems associated with a standing seam metal roof.
Standing seam metal roofing cost about twice as much as corrugated metal roofing
Standing seam metal roofing installation is difficult and not recommended as a DIY project
Oil canning
Lack of availability
Limited choices
If you interested in discovering more about the problems of a standing seam roof, check out:
5 Common Problems With A Standing Seam Metal Roof
Which Type Of Standing Seam Roof Is Best For Me?
We believe in the value and benefits that a standing seam roof can provide you as a homeowner. If you're interested in your options with a standing seam roof, we have product specifications, color options, and really anything else you'd need to know.
The next thing to research is which type of standing seam panel will be best for your project and how much will it cost.
Snap Lock Standing Seam v. Mechanical Seamed Panels: The Pros And Cons
You also might want to learn more about standing seam roofs in general. No product is perfect and standing seam roofs are no different. While it's absolutely the best metal roofing panel that you can buy, there are some problems also. It's always our goal at Western States Metal Roofing to give you the good and the bad with every product that we sell.
We want you to know the pros and cons of the two types of metal roofing systems, concealed fastener and exposed fastener.
Exposed Fastener Metal Panels v. Standing Seam Systems For Metal Roofs
About Paul Rubio
Paul Rubio is the Vice President and one of the owners of Western States Metal Roofing. He has been in the metal roofing industry for 25 years. WSMR is a manufacturer of metal roofing, wall panels, and metal siding. We have colors and finishes that nobody else has with nearly 100 different colors in stock. Our selection of color options and finishes is likely the largest in the industry.