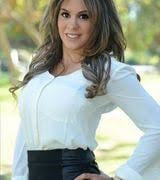 Snap Lock Standing Seam v. Mechanical Seamed Panels: The Pros And Cons
With any product that you buy you can bet there's a range of quality available. When it comes to metal roofing, the higher end of the category is standing seam. These metal roofs are a premium product that are increasing in popularity due to their sleek appearance, exceptional performance, and long lifespan.
But once you've decided to choose standing seam for your new roof, there is still a big range of products.
While differences in appearance after installation are virtually undetectable, each standing seam panel has differing costs, installation processes, and performance.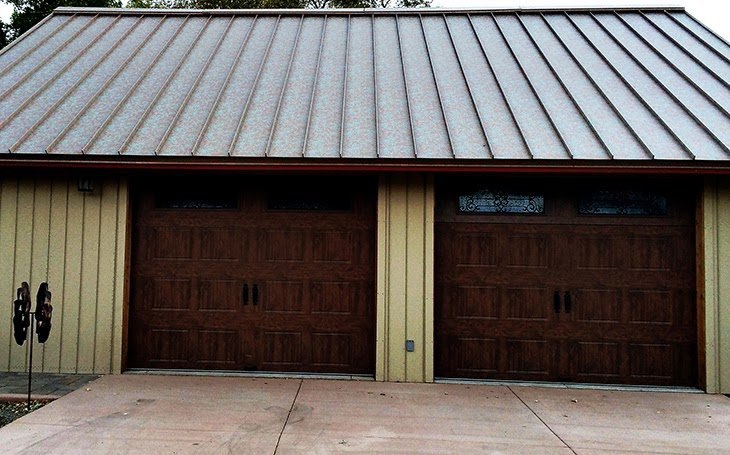 Standing Seam Metal Roof In Aged Copper
At Western States Metal Roofing, we manufacture two different types of standing seam: Snap Lock/ Western Lock and MS2® 2" Deep Mechanically Seamed. While we believe both are quality products, each one is best for certain circumstances.
In this article, we are going to break down the differences between Snap Lock and Mechanically Seamed to help you decide which is a better panel for you.
What Is Snap Lock?
Snap Lock is a type of standing seam metal roof panel that has a male and female leg that snap together. Clips are used to attach the panel to the roof deck. They fasten underneath the panel and out of view to keep the clean look of a standing seam roof.
Snap Lock Panel in Classic Green
Advantages Of Snap Lock Metal Roofing
Easier To Install
This roofing system consists of panels that simply snap together. By eliminating mechanical seams, the installation process is much faster and simpler.
If you like tackling home improvement projects, an easier installation might make it tempting to want to install Snap Lock yourself (which some people do). However, we recommend having your roofing installed by a licensed professional. Our company does not perform installations, but we do know this is the best way to ensure that a roof is done safely and correctly.
Less Labor Costs
The big advantage to you is that an easier installation equals a more affordable installation. You will save on labor costs with Snap Lock as it's a less labor-intensive installation. Fewer hours are required to complete the job, which decreases the overall job cost.
The cost savings are not only a result of less labor, but also because less tools are required. The tool for mechanically seamed installations used in other standing seam installations can cost up to $400 per week per seamer.
A More Affordable Standing Seam Panel
Standing seam is not the right roof for someone on a small budget. It will cost you about twice as much as an asphalt shingle roof or a corrugated metal roof. However, Snap Lock is the more affordable panel within the standing seam roofing category.
A Snap Lock standing seam system will run you anywhere between $8 to $14 per square foot including materials and installation.
Disadvantages Of Snap Lock Metal Roofing
Less Weathertight
This may seem confusing as standing seam roofs are known for being a very weathertight roof. After all standing seam roofs do not have exposed fasteners so there's less of a chance for water to penetrate through.
While Snap Lock is certainly more weathertight than other types of metal roofs, such as corrugated, it is less weathertight when compared to a mechanically seamed roof. Mechanically seamed panels, especially when double locked, are secured together so tightly that there is no room for water to come through. This eliminates worries of leaking or water damage to your roof.
Not A Good Fit For Low Sloped Roofs
If you have a flat or very low sloped roof, Snap Lock is not the right roofing choice for you. These types of panels cannot be used on a roof that is less than a 3:12 pitch.
The chances of leaks are greater on lower sloped roofs as water will accumulate more easily on them. If you have a roof with a pitch that is 1:12 or greater, a mechanically fastened standing seam is a better solution for you.
What Is A Mechanically Seamed Metal Panel?
Mechanically seamed panels are concealed fastener standing seam roofing panels with a male and female leg. They are designed with clips that line up with one another so they can be locked together by a mechanical or hand seamer.

MS2® 2" Deep Mechanically Seamed Panel
The way the panels are fastened together makes the roofing more weather resistant and unlikely to have any leaking issues.
These panels can use one of two locking systems: single lock or double lock.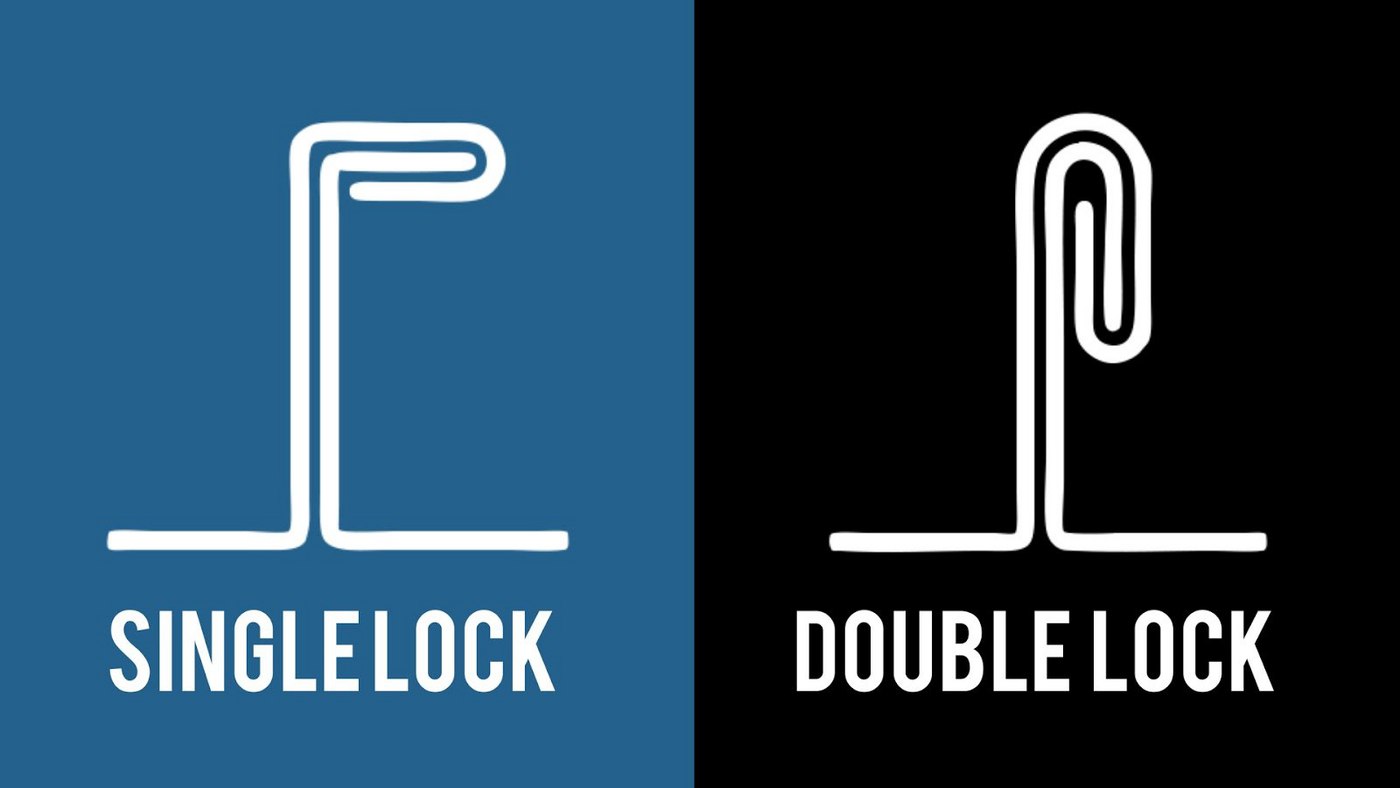 Single Lock v Double Lock Standing Seam Systems
The locking system on a mechanically seamed roof simply describes how the panels are installed.
A single lock refers to the seams of the panel being folded once (90 degrees). A single lock system is easier to install and is best suited for milder climates.
The single lock system is not as weathertight as a double lock system. It will be less likely to perform, or function, as well as a double lock system in areas with frequent heavy rain and snowfall.
A double lock system features seams that are folded twice (180 degrees). These panels require more labor and therefore come with higher installation costs. Despite these issues, they are still more commonly used than single lock.
Double lock systems are also more secure because the additional lock keeps the panels from coming undone. As mentioned before, mechanically seamed systems are compatible with very low sloped roofs. But an important clarification is that this is in reference to a double lock system, not a single lock system.
The single lock is best used:
In mild climates
When looking for the faster and less costly installation
The double lock system is best used:
In snow country and other areas with freezing temperatures
When a more weathertight fit is needed
For very low sloped roofs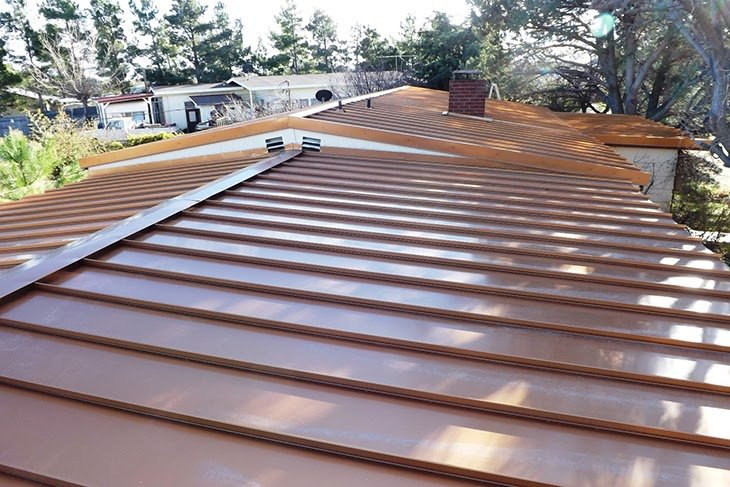 Low Slope Standing Seam Roof In Copper Penny
Advantages Of Mechanically Seamed Roofs
More Weathertight Fit
The functionality of mechanically seamed panels is higher because they are more secure and weathertight.
The panels are seamed tightly together, especially when using the double lock system, and do not have any potential entrances for water to seep through that would result in leaking.
More Secure Fit
Mechanically seamed panels are more secure than Snap Lock as they are held tightly together. This not only decreases the chances of leaks, but also decreases the chances of your seams coming undone.
Disadvantages Of Mechanically Seamed
A More Time Consuming And Costly Installation
Mechanically seamed panels are more labor-intensive installations. Before the installer can even start mechanically seaming, every clip on each panel of the roof needs to be seamed by hand.
The extra labor hours and equipment needed result in higher installation costs than snap lock roofing.
A More Difficult Repair
The extra secure fit we mentioned earlier as an advantage also has a downside. If you have a damaged panel that needs to be replaced, the panels need to be unseamed. For this reason, it's harder to do repairs on a mechanically seamed roof than a Snap Lock roof.
What To Consider When Choosing Between Snap Lock And Mechanically Seamed
Remember, if you are choosing a standing seam roof then you are investing in a quality product no matter which panel type you decide to use. There are just some differences between these panels that make them better suited for specific situations.
Snap Lock is best for:
Smaller installation costs
Mild climates
Normal to high sloped roofs
Mechanically Seamed is best for:
Snow country and extreme weather conditions
An extra weather tight and secure fit
All roof slopes including very low sloped roofs
For product specifications and more information on each standing seam panel, visit our product pages:
Snap Lock/ Western Lock Standing Seam
MS2® 2" Deep Mechanically Seamed