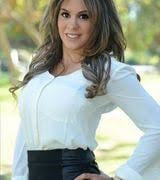 Is A Gray Metal Roof Right For Me? Plus Design Ideas
Color is undoubtedly one of the most critical choices you make when designing your roof as it sets the tone of the overall look of your home. When looking to avoid drastic choices that may quickly go out of style, it's common to gravitate towards neutral colors. Neutral tones are seen as being a "safe" choice, even though they pose the risk of appearing boring. However, the design trends of recent years have proven that neutral can still be exciting thanks to the popularity of the color gray.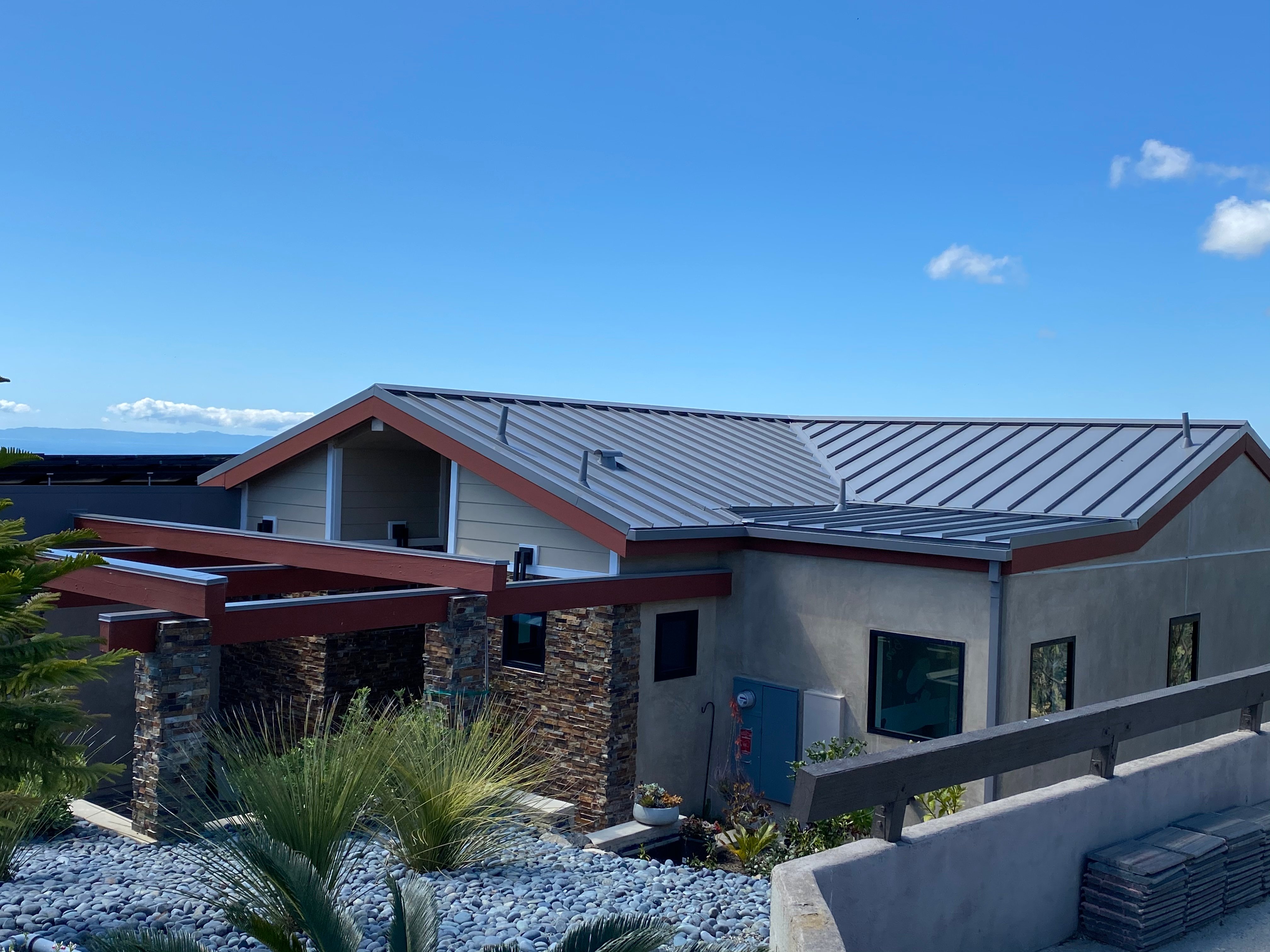 Without a doubt, gray has dominated the neutral palettes and has become the color of choice in decorating and design in recent years because of its versatility. As a mix of the colors black and white by definition, gray has the capacity to appear traditional or ultra modern depending on the application and shade that is chosen.
Gray offers this same diversity and variety when it comes to metal roofing. At Western States Metal Roofing, we manufacture metal roofing and siding panels in over one hundred unique and custom colors. We currently offer over 20 unique shades of gray roofing panels.
In this article, we show examples of gray metal roofs and discuss why this color may be the right choice for your home.
What Shade Of Gray Is Best For Your Metal Roof?
It's common to see the following adjectives used to describe the color gray:
Moody
Balanced
Calming
Stylish
Timeless
Edgy
Elegant
Mysterious
Corporate
Sophisticated
How can one color be described by such a large variety of words? The answer lies in the shade of gray you choose.
Grey metal roof colors will vary from a light ash gray to a dark charcoal gray that at night can almost appear black. As we mention in our Guide To Choosing The Right Metal Roof Color, one factor you want to consider is how your roof will look at different times of the day. The roof will look lighter and brighter at noon with direct sunlight than it will in the evening after sunset.
The metal roof color you choose should complement the coloring and style of the rest of your home. Gray is an excellent choice to make accent colors pop, and can unify diverse materials and textures to pull the overall look of your home together. Let's take a look at some examples.
Gray Metal Roof House Color Combinations
The best way to determine which gray metal roofing and siding color combinations will look best on your house is to use a color visualizer. This tool will allow you to play around with different color combinations and architectural features on your house. There's even a link to request free metal samples for the metal roofing colors that you think will look best.
We've used our color visualizer to create some of the most common color palettes that are associated with gray metal roofing colors.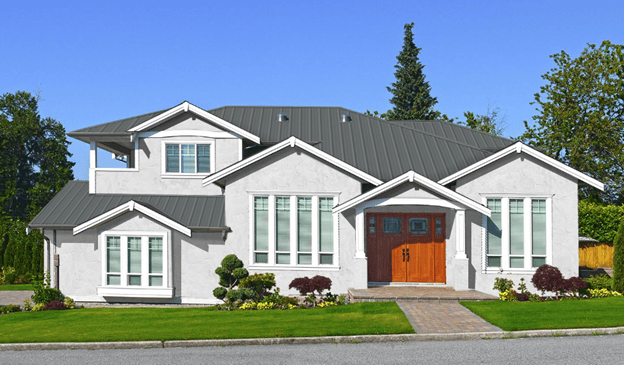 Gray Metal Roof With A White House
This color combination is a classic look as white truly goes with everything. If white is too much, consider a lighter, off-white shade such as almond.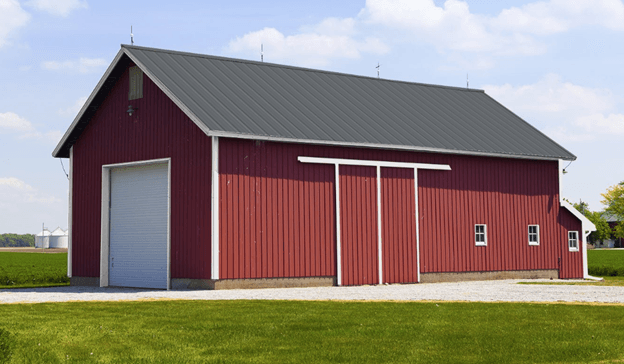 Gray Metal Roof With A Red House
Reds that represent the natural coloring of bricks, such as burgundy, have excellent contrast with a dark gray metal roof. These homes also look excellent with white trim for extra contrast.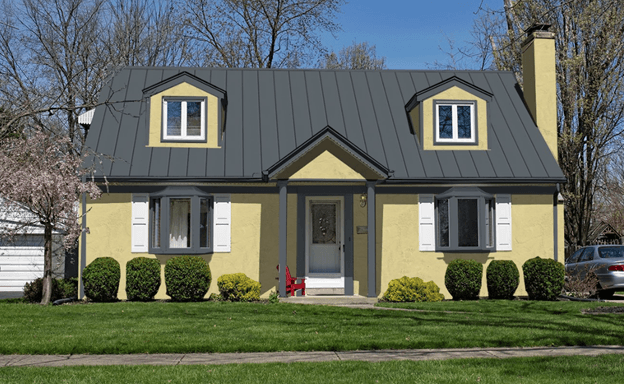 Gray Metal Roof With A Yellow House
Maybe it's a color pairing you haven't considered before, with gray and yellow go very well together. A paler yellow works best with a lighter gray roof for a traditional look. A richer yellow is accented beautifully by a dark gray metal roof.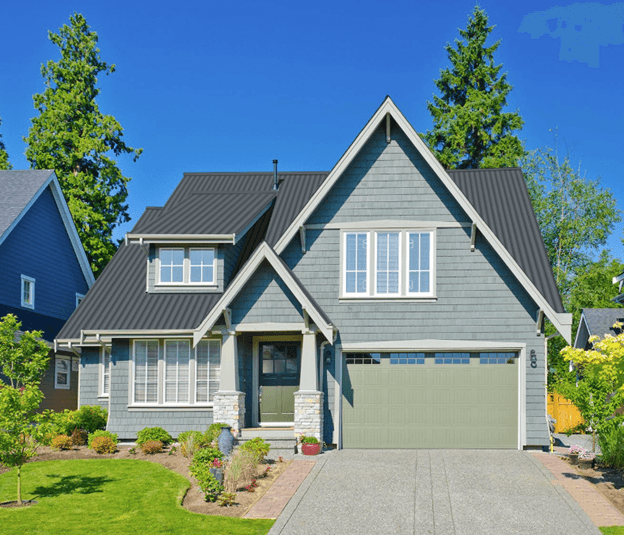 Gray Metal Roof With A Green House
Lighter green colors, such as sage or olive, go well with almost any shade of gray. We recommend sticking to lighter hues of green when using the green/gray color combination.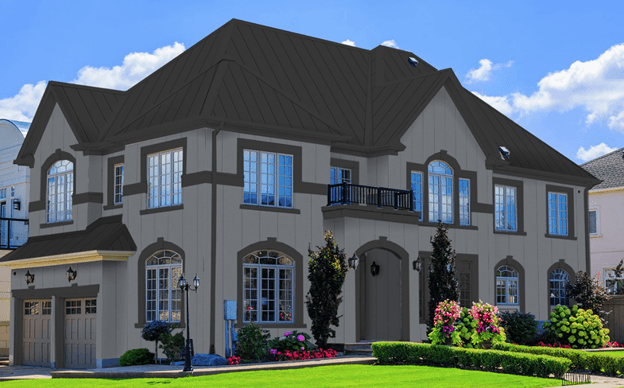 Dark Gray Metal Roof With A Gray House
We've brought up contrast several times already, so suggesting gray on gray might seem contradictory. The key is to have your house be either several shades lighter or darker than the roof. A charcoal gray roof with a charcoal gray house could look too heavy, but that same roof with an ash gray house provides a beautiful monochromatic aesthetic.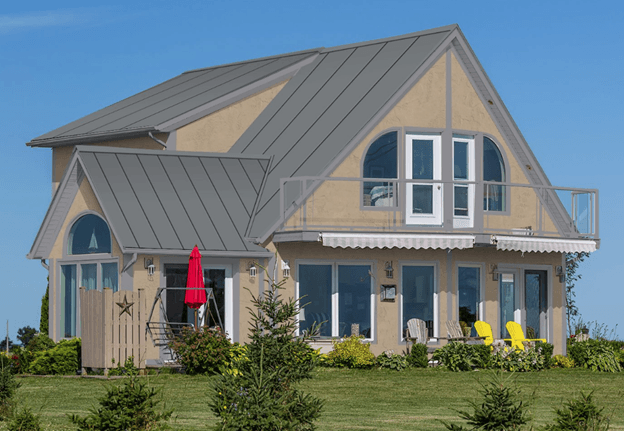 What Gray Metal Roof House Color Combinations Should You Avoid?
With a gray roof, you want to stay away from painting your home in a muted color such as brown, beige, or taupe. This will make the home look washed out and boring. Instead, pairing colors that have contrast creates excitement and dimension to your home's appearance.
Will A Gray Metal Roof Fade?
When considering colors, you also want to consider fading. Unfortunately, roofs do eventually fade over time. The good news is that gray metal roofs fade less than other colors.
The slower rate of fading on a gray metal roof is because:
Gray is an

inorganic pigment
Gray is a less vibrant color
Most grays are matte, and matte colors fade slower than glossy finishes
Keep in mind that painted metal panels do come with a paint warranty that covers excessive fading. However, a steady loss of pigment over the years is expected and will not be covered under a warranty.
Cool Gray vs. Warm Gray Metal Roofing Colors
When describing the shades of gray, you will commonly hear that a color is a "cool" gray or a "warm" gray. These terms are referring to the undertones that are in a color.
While gray in general is considered a neutral color, there are shades of gray that lean towards being cool or warm. A cool gray has more blue and green undertones while a warm gray has more red and yellow undertones. A neutral gray is just black and white with no undertones.
An easy way to remember the difference is by using the color temperature concept. The names are associated with things that are cool and warm. Ice and snow are cold and the color of the shadows in them is blue. Therefore blue, or grays with blue undertones, is a cool color. On the contrary, fire is hot and consists of red and yellow shades. This means that red, or gray with red undertones, is a warm color.
While neutral colors can go with anything, it's best to mix warm colors and cool colors for contrast. If your home is a warmer tone, consider using a metal roof in a cooler shade and vice versa.
What Are The Most Popular Gray Metal Roof Colors?
Charcoal Gray
Ash Gray
Slate Gray

Charcoal Gray Metal Roofing
A metal roof in charcoal gray is a very dark shade of gray that can look almost black at night. The color gets its name from the black carbon residue produced by burning wood.
Charcoal gray is a true neutral tone of gray as it does not have any warm or cool shades in it. This makes it compatible with almost any color. For a deep contrast, use a charcoal gray metal roof with siding that is a lighter color.
Ash Gray Metal Roofing
Metal roofing in ash gray is a lighter gray color that resembles the color of ashes. Ash gray is a color with a little more depth as it's not just a mixture of black and white. It also has some blue and green hues in it which makes it a cooler shade of gray.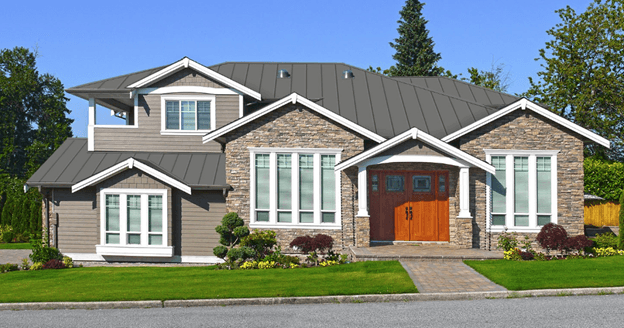 Slate Gray Metal Roofing
Metal roofing in slate gray is a darker, cool shade of gray with blue undertones. The color gets its name from resembling the natural color of slate rocks.
Gray Metal Roofing Finishes: Glossy Vs. Matte
In addition to the color, the paint finish also affects the overall aesthetic of your roof. Roof panels come in two types: glossy or matte.
A glossy color gives off a brighter, more intense appearance while a matte color is flat and has less of a glare. Matte roofing colors have a warm, inviting look that is elegant and not as dramatic as a glossy finish.
Matte gray colors blend well with most siding colors because they are more neutral, toned down colors.
Gray Metal Roof Panels
Gray is a versatile color that can enhance any home design. Gray metal roof panels are available in exposed fastener panels and standing seam panels.
Western States Metal Roofing offers over 20 different shades of gray for roofing panels in all of our roofing profiles. For more on gray metal roofing, visit our Gray Metal Roofing page.
For a more realistic idea of what a gray metal roof will look like on your home, visit our Metal Roof Color Visualizer.
Interested in checking out other popular colors for metal roofing? We recommend reading:

Is A Black Metal Roof Right For You? 4 Benefits + A Testimonial