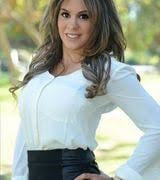 Is A Black Metal Roof Right For You? 4 Benefits & A Testimonial
Metal | Roofing | Homeowner Education | Color Options | Standing Seam | roof
From clothes to cars, black is a classic color because it adds sophistication and style to everything it touches. While the metal roofing industry has historically leaned towards neutral colors, matte black is now the latest growing trend in modern architecture.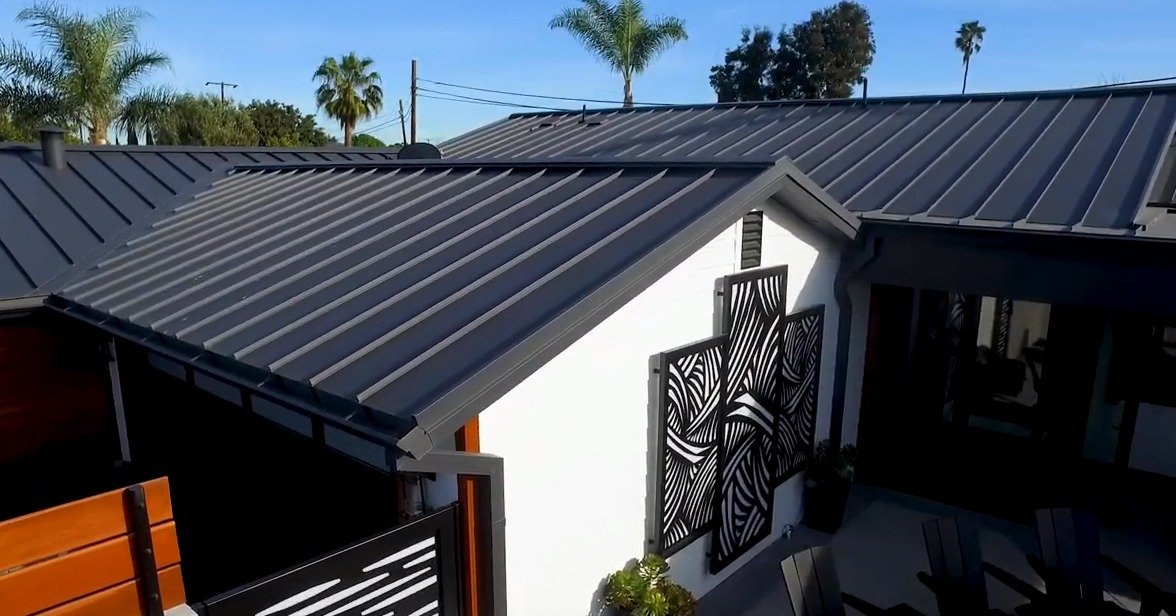 Western States Metal Roofing has been manufacturing metal roofing panels for over two decades. In years past, orders for black metal roofing were few and far between. However, they are now some of our most requested colors.
One of those requests came from Jennifer and Quinn of Huntington Beach, CA. The proud owners of a beautiful California craftsmen home were in the market for a new roof and an upgraded style.
They were unsure of what kind of roof they wanted and considered many different options.
They looked into stone and tile roofing, but the structure of their home would have to be upgraded to support the weight of these heavier materials. The additional expense made it an unrealistic choice.
They also considered an upgraded asphalt shingle roofing system, but didn't like that asphalt would not last as long as the other materials.
Then they came across metal. Metal solved both of the issues they ran into earlier: it's a lightweight material that often lasts for 50+ years. However, what really sold the couple on a metal roof was it's curb appeal. You can watch their testimonial in the video below.
Black Metal Roofing Pros
Striking Appearance
Unique
Highlights Key Features
Modern Design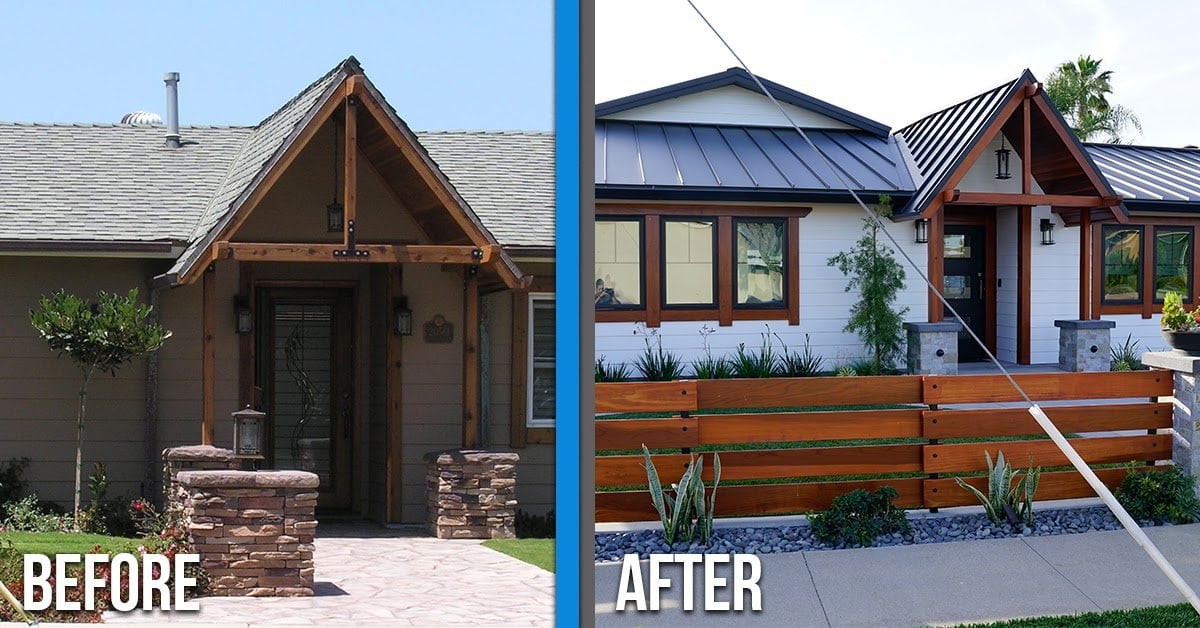 Before and After with a Standing Seam metal roof
Adding A Black Metal Roof On Your House Creates Contrast
The couple chose a standing seam roof in Black Ore Matte. The dark color provides a striking contrast to the natural exposed wood of the home that makes it really stand out in their beach community. "It's such a gem in this neighborhood," says Jennifer.
Black Metal Roofing Panels Stand Out From The Rest
The black metal roof is only one of a few in their neighborhood. Today, more homeowners want to stand out rather than fit in when it comes to home design. Black is the perfect eye-catching color choice to help set your home a part from the rest.
Since some homeowners continue to play it safe or haven't updated their homes, a black roof is undoubtedly going to be among roofing in more neutral colors so it's sure to stand out.
Black Roofing Panels Highlight Key Features Of Your Roof
Aside from being unique, a black roof also highlights the key features of a home.
The Black Ore Matte roof used on the Craftsmen home highlights the roof's three different ridge lines and four different valleys. It's the perfect color choice that won't hide the unique characteristics of your architectural design.
Black Roofs In Modern Design
Black is perceived as being a modern color in design, especially when used to provide a stark contrast to lighter colors. Traditional wood shake roofs are often seen now as looking tired and outdated.
A sleek black roof can give your home a total modern makeover.
The Different Shades Of Black Metal Roofing Panels
Even with a standard color like black, there is still a variety of panels within the color category.
In the Western States Metal Roofing color catalog, you can get a color like Matte Black, the darkest shade of black available. Or you could choose something like Black Ore Matte, a modern black-gray combination that was used on the California craftsmen home.
It all depends on the aesthetic your project is looking to achieve.
Matte v. Glossy Finish
Matte finishes are flat colors that have less of a glare than your standard metal roofing colors. Matte colors have a warm, inviting look that is elegant and not as intense as a glossy finish.
A matte finish can be useful when working with black because it can soften the sometimes harsh appearance that black or other dark colors might give off.
A glossy black will give off a more dramatic, intense appearance than a matte black. You should choose this finish type if you want a roof with a shiny appearance.
Consider the aesthetic you're looking to achieve when choosing which type of black finish to use.
Designing Your Roof With A Color Visualizer
A color visualizer is a state of the art software program that allows you to quickly visualize different types of roofing, wall materials, and colors on a sample building.

You can even upload a photo of your own home or commercial building to create the ultimate metal roofing design and see how it will look. This is an easy way to see if a black metal roof enhances the aesthetic you want your home to have!
Matte Black Metal Roofing
If you're looking to pack a punch in your curb appeal with a striking, unique color, then using black metal can be the perfect solution.
Like Jennifer and Quinn, you can appreciate your roof for more than its appearance. They not only love the aesthetics of their roof, but also enjoy the other benefits of metal like it's longevity. "We built this house to live here for the next 50 years, and the roof will outlast us probably."
If you're considering a black metal roof, visit our Black Metal Roofing Resource Center to view the variety of black shades available for your roof.