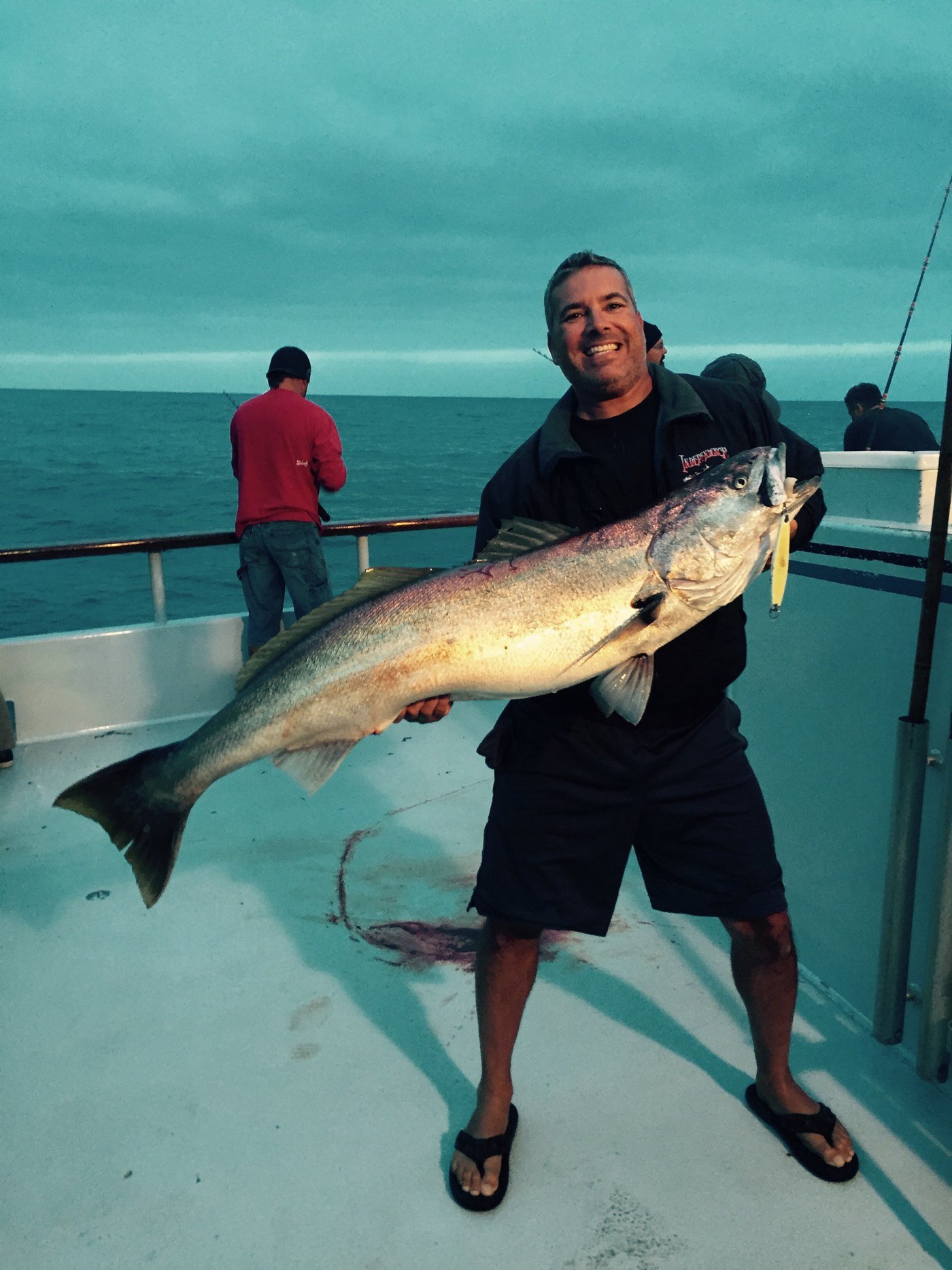 How to Install Prehung Box Gutters On A Metal Roof.
How to | Roofing Contractor Education | Metal Roof Installation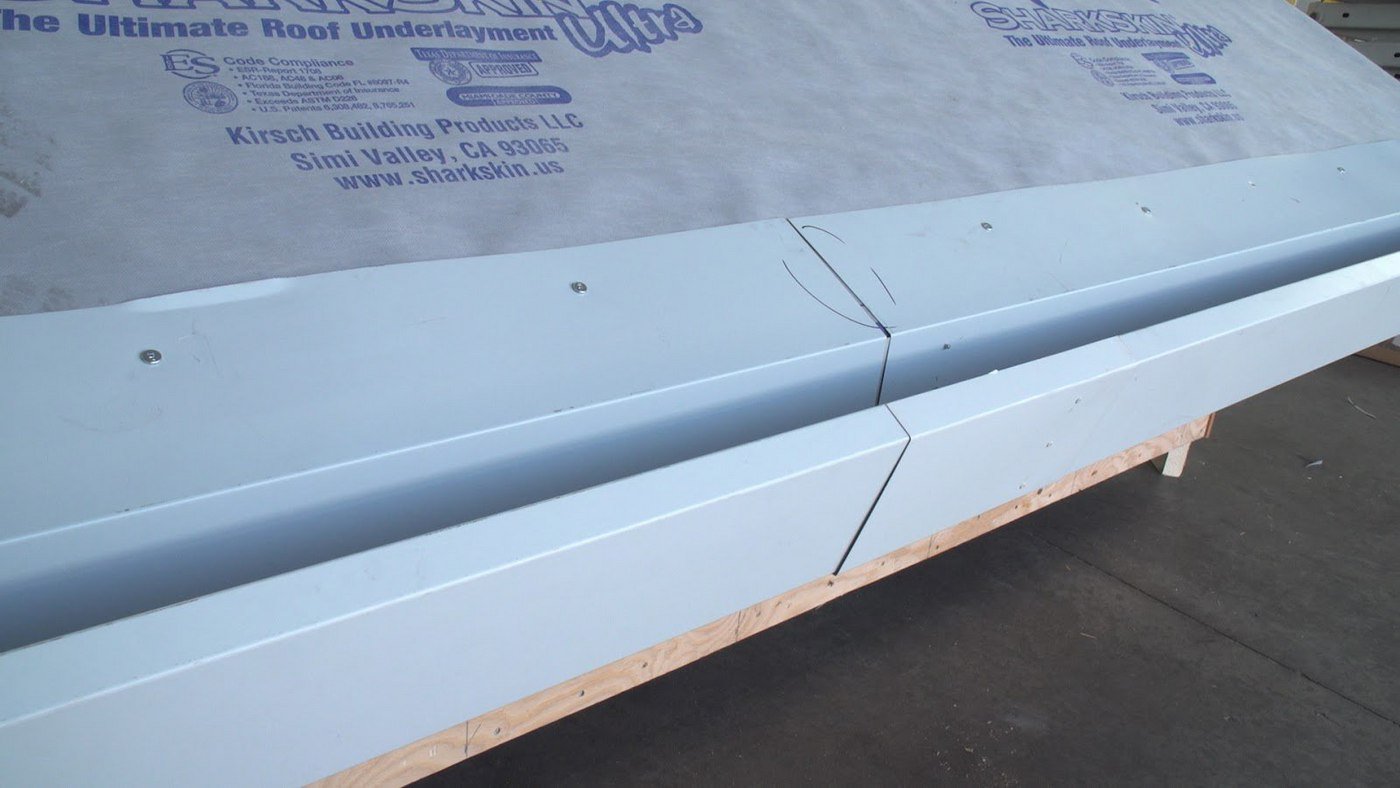 Think of your metal roof as an investment. You invested in a metal roof to protect your home, and, gutters are a crucial part of the installation of your metal roof.
Without gutters, your metal roof won't be able to protect your home and investment. Box gutters eliminate water from moving into the ground around your home. Water around your home is a possible cause of a shifting or leaking foundation. Box gutters also guard against rain runoff staining your exterior walls.
At Western States Metal Roofing, we want to make your installation as easy as possible. It's recommended to refer to the manufacturer's metal roofing installation guide as your main reference, but we help you out more than a long drawn-out written guide.
This article will give you a written step by step guide. To help you visualize the process, we've also created a pre-hung box gutter installation video.
We will cover:
Please note: Prior to installation, make sure the proper roofing underlayment has been installed to your metal roof.
What's Pre-Hung Gutter?
A pre-hung gutter is a gutter that's installed prior to the installation of the roof. Its purpose is to divert water off the roof and away from the walls and foundation of a building. When used on a metal roof, it's a more weather-tight system than a gutter installed after the roof installation.
How Much Does Pre-Hung Box Gutter Cost?
The cost of the pre-hung box gutter will depend upon the gauge, type of paint finish, and the size of the gutter trim. On average gutter trim will cost $3 to $4 per lineal foot. However, that does not include all of the additional gutter accessories. A good ballpark estimate is to double the cost of the gutter and that will be a close guess of the additional cost for parts such as: gutter splice, gutter end caps, gutter straps, and downspout outlets.
How To Install A Gutter End Cap
Using clamps, secure your gutter and cap into position.
Predrill holes for your rivets on the top and bottom of each side. Note: Make sure holes penetrate the box gutter end cap flaps.
Unclamp your end cap, and place silicone sealant along the inside edge of your gutter.
Reposition the gutter end cap, and fasten it using rivets.
Wipe off any excess silicone sealant on the exterior of the gutter.
Apply additional sealant to the inside seams of the gutter end cap.
How To Install Downspout Outlet
Determine the downspout location.
Trace the downspout outlet outline on the lower section of your gutter.
Using a step drill bit, make a hole at the center of your outline.
Using metal cutting snips, cut out the traced square. NOTE: The downspout outlet should fall through and stop by its flanges.
Place silicone sealant around the perimeter of the interior cutout.
Drop the downspout outlet into position, and secure it using three rivets on each side of the pre-hung box gutter.
Apply additional sealant around the perimeter and at any rivet penetration.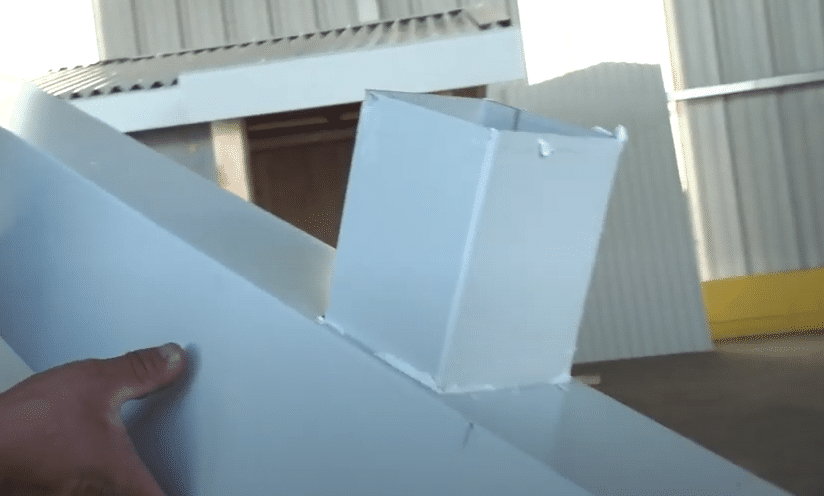 How To Connect Two Pieces Of Gutter With Gutter Splice
If your gutter is being installed on a long stretch of roof, chances are you will need to join two gutter sections together. To do this:
Use a 12-inch gutter splice, and install it on the outside where the two gutter sections meet.
Place the splice in the middle, six inches from each section.
Using the gutter splice as a guide, make an outline six inches from the end of your gutter.
Make an additional outline three inches from the end, and apply silicone sealant along this outline.
Position the gutter splice in position by aligning it with the six-inch outline, and temporarily secure it using clamps.
Measure three inches from the gutter splice edge. This is where your silicone sealant is located. Pre-drill three holes and install three rivets on both ends of the gutter splice
Pre-drill two holes on the lower end of the gutter where you will install two more rivets.
Fasten the gutter section to your roof using pancake screws 12 inches on center.
Prepare the adjacent gutter piece by applying sealant one inch from the edge.
Drop the gutter into the splice, leaving a quarter-inch gap between the two sections to allow for expansion.
Fasten the second section of gutter with pancake screws 12 inches on center.
Place a rivet on the top section of the gutter splice on the newly attached section of gutter, and apply sealant along the inner seams and all interior rivets.
How To Fasten Gutters And Install Roofing Underlayment
After the gutter has been fastened, lay an eight-inch strip of self-adhesive roofing underlayment across the gutter two inches from the gutter edge.
After the roof panels have been installed, install gutter straps for additional security
Fasten the gutter section to your roof using pancake screws 12 inches on center.
You should consider consulting an engineer prior to fastening your gutter as local codes vary. However, the most common distance to install your pancake screws when fastening your gutter is 12 inches on center.
How To Install Gutter Strap For A Metal Roof
Place your strap in its position and mark the edge of your roofline, and place an additional mark where the screw will be placed.
Bend the strap at the marked line to the angle of your roof.
Predrill the gutter and gutter strap. NOTE: Prior to drilling, you will want to hook your strap onto the open hem of the box gutter.
Fasten the gutter strap onto the high seam of your roofing panel with a lap screw.
Predrill the gutter, and strap, then attach the low section to the gutter using a lap screw.
Gutter straps usually are installed every three feet; however, you will want to consult an engineer prior to installing them as local codes and rain loads vary depending on your area.
Learn How To Install Downspout
If you are learning about installing gutters on a metal roof then you probably need to figure out how to install downspouts. We have written guides and videos for downspout installation to help you with this.
Check out our metal roofing installation guides, view our YouTube channel, and visit our Metal Roofing Learning Center.
About Paul Rubio
Paul Rubio is the Vice President and one of the owners of Western States Metal Roofing. He has been in the metal roofing industry for 25 years. WSMR is a manufacturer of metal roofing, wall panels, and metal siding. We have colors and finishes that nobody else has with nearly 100 different colors in stock. Our selection of color options and finishes is likely the largest in the industry.